This message has 682 words and will take about 3 minutes to read.
Today is a day of transitions, of beginnings and of endings. It's the start of a new month, a new year, and the end of our Jewish week. That which we have become accustomed to is behind us, and we must look ahead and embrace what lies before us. What better time to continue to write about an important transition we're preparing for in our community – the slow and steady shift of leadership to a new generation.
In our community we are fortunate to have an incredible depth and breadth of volunteer and philanthropic leadership. There are so many people who give of their talents, their time, and their professional expertise to serve on the boards and committees of our Federation and community institutions. Our Federation along with everyone of our partner Jewish organizations rely on these volunteers to represent our community, to do the work of our community and to share in building a better community. We are grateful for their service and at the same time very aware that it is not realistic to rely on the same volunteers indefinitely. It is only natural that every volunteer, at some point in their service, will be ready to pass the torch.
Part of our job as a Federation is to ensure there is an abundance of capable, caring, and committed community members who are able and eager to assume these roles. That's where our young adult group, Axis, comes in with their immersive leadership development program, Leadership Lab. Previous Leadership Lab cohorts have visited our partner agencies and engaged with Jewish philanthropists and business leaders on a variety of topics from change management to the allocations process. Participants have undertaken personal leadership assessments and worked as a team on real programs that impacted the organizations of their choice.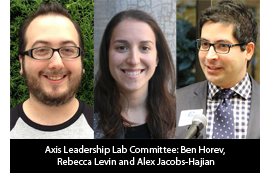 After having already "graduated" 40 young Jews in their 20s and 30s over the past two years, Axis is gearing up to put its third cohort through eight interactive and practical sessions of Leadership Lab starting in February. This year's Leadership Lab is being spearheaded by the outstanding committee of Ben Horev (chair), Rebecca Levin and Alex Jacobs-Hajian.
I have had the privilege of addressing each Leadership Lab cohort. The people that I have met have deeply inspired me. I would love to introduce you to a couple of them. Many of you either know Ben or have seen him over the years at the JCC, where he holds the dual role of Teen and Youth coordinator and director of Camp Shalom. He brings tremendous energy to the table, along with a particular interest in helping Leadership Lab participants see what it really means to be a leader in the community. Rebecca, originally from Toronto, arrived in town on a work contract and immediately reached out and said she wanted to be involved in programs for young professionals. I can't tell you how much I love that passion for community! Alex, who like Ben is an incredibly engaged Leadership Lab alumnus, has been very active with Axis since its inception. He and Ben bounced ideas around together beautifully when they were participants together and we are thrilled to have finally been able to tap Alex for this committee role. These three are receiving professional support from our office, including from Jonathan Thau, our Axis program coordinator who is himself a Leadership Lab alumnus.
This generation is not waiting in the wings for it to be their turn. Their turn is already well under way and they're already established leaders in their own right. Through Leadership Lab they develop their skills in a unique community environment.
If you are a young adult who is interested in being a change agent for our community, or if you know someone who is, I invite you to join us. Registration will be opening soon for Leadership Lab but you can get a head start by contacting Jonathan Thau at jthau@jewishvancouver.com for more information on how you can play your role in leading our community.
Shabbat shalom and happy New Year,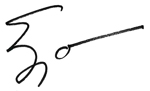 Ezra S. Shanken
CEO, Jewish Federation of Greater Vancouver