This message has 694 words and will take about 4 minutes to read.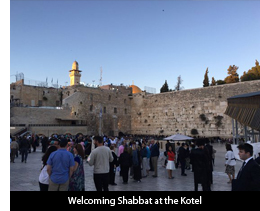 This evening I am welcoming Shabbat at the Kotel, as I participate on a mission to Israel with local business leaders who are World Presidents' Organization (WPO) members. The group is meeting with some of Israel's most prominent political and business leaders as part of what is essentially a crash course in all things Israeli, and our role is to help turn them into advocates for Israel when they return. Having a diverse group of supporters, such as these WPO members, is important to all of us and to Israel. This trip was spearheaded by two of our volunteer leaders and former presidents who are WPO members, Craig Diamond and Michael Fugman.

Nurturing relationships with people and organizations that share our values and care for the same things we care for is part and parcel of building a strong local Jewish community. This is the third mission of its kind that we've assisted with over the years in terms of developing the itinerary and making connections for members of WPO and its associated group, Young Presidents' Organization (YPO).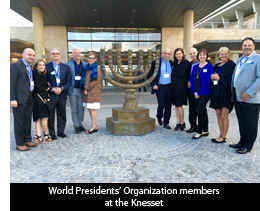 One of our most powerful visits took place at the Knesset, which reinforced to the group the democratic values shared by Canada and Israel. We met with Deputy Speaker Nachman Shai, and literally saw Israeli democracy in action as Nachman went back and forth between talking to us and taking part in votes on the floor. He provided an insider's view of what's going on in the Israeli government, and an update on the situation with Iran that was anything but sugar coated. The Knesset and our Parliament each have interparliamentary groups dedicated to the promotion of cooperation and goodwill, and I am happy to share the news that MP Michael Levitt was recently appointed the new association chair of this group in Canada.
We will also be visiting our partnership region and touring projects, such as the Bar-Ilan University – Faculty of Medicine in the Galilee, that represent some of our most impactful strategic investments in the North. While in the Upper Galilee they will learn about the history of the area, and the unique security issues that come with living in the North. We also had a tour of the security barrier led by its designer Colonel (Res.) Danny Tirzah, and tonight we will hear another incredible perspective when we have Shabbat dinner with MK Michael Oren, former ambassador to the United States, and his wife, Sally. These experiences are introducing participants to the complexity of Israel. They are seeing that there is not one story about this country and its people, but that there are many complex aspects to life in Israel and the region.

One of the softer, unplanned experiences that is having an impact on the group is seeing the number of international officials staying at our hotel. From the Prime Minister of Greece, to an American Senate delegation, to high ranking Chinese and Russian officials with massive security teams, it is clear that Israel is a hub of positive international interest and activity.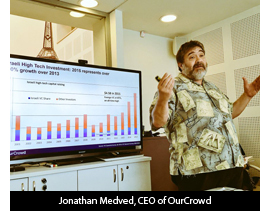 Something that made a particular impression on me was our meeting with Jonathan Medved, one of Israel's leading venture capitalists and CEO of OurCrowd, which he launched to help support Israeli start-ups. He started OurCrowd because he says he's been hearing about BDS and he's determined not to let them win. People are investing in Israel, he says, because the technologies are valuable to some of the largest companies in the world. What really moved me was his perspective that our philanthropic dollars are deeply critical, but so are investments in Israeli companies to create more jobs.

We might not all be able to invest in Israeli companies at the level of a venture capitalist, but there is something we each can do. That is to buy Israeli products. With Purim just behind us, the rush is on to prepare for Pesach. As you shop, please add Israeli products to your cart and your table and help create an economic environment in Israel that people can benefit from.
Shabbat shalom,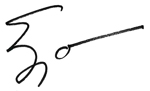 Ezra S. Shanken
CEO, Jewish Federation of Greater Vancouver