This message has 894 words and will take about 4 minutes to read.
War. Poverty. Rising anti-Semitism. This is what many Jewish communities overseas face, including in the former Soviet Union. It's not an easy place to be Jewish, but there are rays of hope.
In this final installment in our series of messages about our 2020 Strategic Priorities that will guide our work over the next several years, I would like to highlight what's happening in Jewish communities in need on the other side of the world, and how our support – in other words, your campaign gift – is making a difference. Rather than hearing it all from me, I'm turning over the majority of this week's message to Lisa Pullan, our chair of Women's Philanthropy, who saw the impact of your gift firsthand.
No gift touches more Jewish lives.

I've heard it. I've read it. Last summer I experienced it first hand while participating in Jewish Federations of North America's Campaign Chairs & Directors Mission to Israel and Tbilisi, Georgia. My sister-in-law and campaign director, Michelle Pullan, and I saw the power of collective giving and the difference we are making to Jews in the former Soviet Union.

During one of our exercises near the end of the trip we were asked to choose from among hundreds of photos taken during our week that reflected our 'Ah ha' moment. This was tough, as all day, every day there were amazing experiences and people that moved me with their strength and their stories. But I chose a photo of Anna. It is through Anna that I really felt the power of our strong global Jewish connection. Anna lives in Tbilisi and could be my grandmother - if my grandmother wasn't fortunate enough to have come to Canada from Russia as a child.

Anna Becker was 88 years old and bedridden after a series of operations earlier that year left her unable to walk. Her pension is $66 per month from which she has to buy all she needs. Hesed, a Joint Distribution Committee program (supported by Jewish Federation), is able to allot her $40 per month for food and provide a caregiver, Tatyana, who shops and visits with Anna. There are 1,800 seniors like her in Georgia who are being helped by Federation dollars.

We shopped for Anna in a modern, stocked grocery store but quickly realized that the food budget she must live on is very limited. We visited Anna in her one room apartment - five floors up, no elevator and with a common, shared kitchen and bath. We met a lovely, interested, grateful woman who was a doctor by profession. When she retired, she was a dedicated Hesed volunteer, helping others by delivering food from the Hesed dining room to homebound clients. Now, reflecting the circle of mitzvah, she finds herself to be the client.

We asked Anna what she wanted us to tell people when we got home. Without hesitation, she replied, "Thank you. You saved my life. Without you I would die."

It was the life saving and meaningful work for the most needy in the region that truly moved me.

As we left our visit with Anna, the lovely Tatyana said, "Thank you for giving money to people you cannot see."

I can assure you that your gift matters. And it is appreciated in ways you cannot even imagine.
There are 165,000 frail, elderly Jews in the former Soviet Union who, just like Anna, rely on us and on our partner, The Joint Distribution Committee (JDC). Many of them are homebound. Many of them are Holocaust survivors. We are helping them live out their last days in relative comfort and dignity. They may be half a world away, but they feel very close to our hearts.
Now, for those bright spots I mentioned, because there are some wonderful opportunities for hope there. As you might have guessed, this comes in the form of young people who will be the next to lead re-emerging Jewish communities. They need our support, too, if they are to be successful in revitalizing Jewish life and rebuilding communities that reflect the new ways in which Jewish identity and affiliation are shifting there. It's no small task given recent increases in anti-Semitism, the economic instability, and the other challenges they are facing. Our role and that of The JDC is to help them develop not only the leadership skills, but the basic Jewish communal infrastructure and educational resources they need to succeed.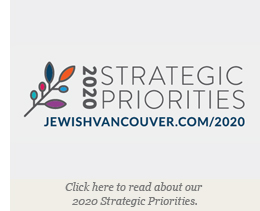 In our 2020 Strategic Priorities, we identified the need to increase our annual support for these initiatives by well more than double. Over the past six weeks I've written about the scope of our work, including the needs and what more we must do. As you can imagine this doesn't just happen out of thin air. It requires us to generate additional financial resources through the Federation Annual Campaign, through new endowments at the Jewish Community Foundation, and through special giving opportunities. We don't officially launch the campaign until September 1st, so there are a few weeks left to think about the breadth and depth of our work, and the difference you wish to make. Whether you choose to get involved as a donor, as a volunteer, or as a guest at one of our events (hopefully all three!) there is a part for you to play.
Shabbat shalom,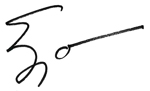 Ezra S. Shanken
CEO, Jewish Federation of Greater Vancouver