This message has 824 words and takes about 3 minutes to read.
Alex Cristall, our Board Chair, and I were in Toronto earlier this week, along with representatives from the Toronto and Montreal Federations and Jewish Federations of Canada-UIA (JFC-UIA) for the JFC-UIA Leadership Meetings.

These meetings are always a great opportunity for us to share the strategic priorities of our own communities and look through a wider lens at the role we play on a national level. Discussions included how we can assist the smallest of communities to be as vibrant as they can be, ensuring healthy participation in Israel experience programs like March of the Living, and maintaining the strength of our national system, and more.

Each Jewish community in Canada has a special relationship not just with each other, but with the cities and regions in Israel with which we are paired. In our case, that's the Upper Galilee Panhandle.

We wrote a few weeks ago about how our strategic investment in the region has paved the way for others to invest in the region's future. Most recently we've seen proof of that in the announcement that an international conglomerate will be developing a food tech centre in the region that will ultimately see the Upper Galilee become a global innovation hub. It's just one way in which we are amplifying the impact you have when you give through the Federation Annual Campaign.

While the Annual Campaign is an incredibly important way in which we generate the funds to make a positive and lasting impact in areas of high priority need, it is but one of several ways we do this. As a community we are very fortunate that there are many families and individuals who not only make leadership level gifts through the campaign, but who are motivated and able to fund high priority needs throughout the year.

Our work in this area continues to expand, reflecting the trust these donors and our partners place in Jewish Federation.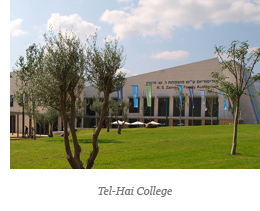 Take, for example, scholarships for residents of the Upper Galilee to attend Tel-Hai College. Tel-Hai is more than just a college; it is a major economic driver in the North. In 2018 Tel-Hai expanded its research infrastructures and is launching the Northern Galilee's next game changer, a new Science Building for Health, Environment and Biotechnology Studies with construction scheduled to commence this fall. This will significantly expand the college's research capacity and attract academics from all over the country to settle in the North.

Scholarships that help retain the region's best and brightest young people are key factors in the long term success and stability of the region's biggest city, Kiryat Shmona, and indeed for the region as a whole. We are working with several donors who are funding scholarships at Tel-Hai College that keep talented young people in the region and attract others from other parts of the country to the North.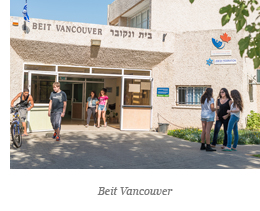 We are also working with donors to fund scholarships that are helping students from Kiryat Shmona receive a high-quality, post-secondary education in their fields of interest anywhere in Israel. The scholarships provide a bridge between their formative teen years at Beit Vancouver and their return to civilian life after their compulsory military service.

In addition, there is the strategic focus our Israel and Overseas Affairs Committee, chaired by Candace Kwinter, has placed on developing the next generation of local, young leaders, through Annual Campaign support of programs like Kedma. Kedma provides students from Tel-Hai with residences on kibbutzim in the region in return for their active participation in kibbutz life. These students are bringing new energy to these communities, which is vital, particularly where there are aging populations. Most of these students will choose to stay on the kibbutz when they graduate.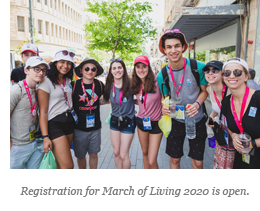 Ensuring that young people in our community have opportunities to build connections with Israel is an important part of our work, too. One of the experiences we support through the Federation Annual Campaign is March of the Living, on which participants visit Israel for a week after a week in Poland learning about the Holocaust. Do you have a teen in high school? Registration is open now. Click here.

As we close out the week amid the very special period of reflection and resolution between Rosh Hashanah and Yom Kippur, we want to leave you with an idea for engaging the youngest members of your family in Yom Kippur. It can be hard for little ones to connect with this holiday, but our PJ Library program – which is supported by both the Annual Campaign and special project funding - posted a great Kveller article today that is "a kid-friendly interpretation of the Ashamnu." Rachel and I will be using it with our boys, and I hope you find it valuable, too.
Shabbat Shalom,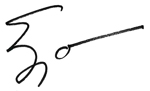 Ezra S. Shanken
CEO, Jewish Federation of Greater Vancouver