This message has 708 words and will take about 5 minutes to read.
Shabbat Message – April 15, 2016
As we approach Passover, it is natural for us to think about all those around us who do not enjoy the same freedoms we do. Throughout the week we were reminded of why it's so special to have the freedoms we have today, and what we must do to preserve them.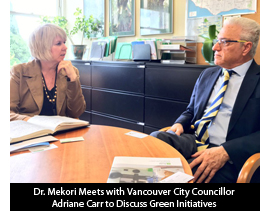 The week started with a visit from the new president of Tel Hai College, Dr. Yossi Mekori. Tel Hai is one of the main economic generators in our Coast-to-Coast partnership region, and an important partner of ours particularly in terms of our work to improve the quality of science education in the area and in attracting top talent to work in one of the most beautiful places in Israel. Our strategic investments and partnerships in Northern Israel help strengthen this region, which deals with profound socioeconomic disparity and significant security issues.
Security is essential to the continued growth and stability of our local community, too. Over the past two years we have seen a rise in terrorist activity world-wide, some of which has targeted Jewish communities, such as in Paris and Copenhagen. While there has not been and is not currently an increased threat to our community, we should not assume that these types of events could never impact us.
For many years our Federation has taken a proactive approach to community safety, and in that vein we have established the Community Security Committee, chaired by Bernard Pinsky, which is focused on identifying and assessing opportunities to enhance our collective safety. The committee will update the community about any security concerns, and will ensure community institutions have the appropriate protocols and technology in place to ensure maximum safety.
The Community Security Committee recently met with approximately 20 representatives from community agencies to get feedback about what they would like to see in terms of communication, training and security upgrades. Security is a shared responsibility, which will require the active support of our community members, leaders, and institutions. I would like to extend my deep appreciation to Bernard and all the members of this committee for the important work they are undertaking on behalf of our community.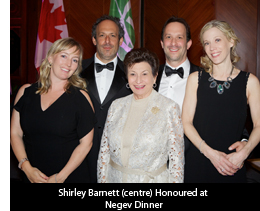 When it comes to taking on the important work of a community – be it within our Jewish community or beyond – few community leaders are more dedicated than Shirley Barnett, who was honoured at the JNF Negev Dinner on Sunday. It was truly moving to see so many supporters of our community come out to honour Shirley for the impact she has made, and continues to make, throughout our community. There are very few organizations in our community that have not benefitted from her generosity. Shirley is an inspiration to me, and I was thrilled to be present to see her honoured.
The work of our community comes in many forms, and on Tuesday, Rachel and I, along with many others, joined our partner, Jewish Family Service Agency, to put together Passover packages to ensure those in need have all their holiday basics. Every year at the seder we say, "Let all who are hungry come and eat," and this was a perfect example of our community putting that into action. I want to praise the JFSA team of volunteers and staff for making this a priority.
This Passover, Rachel and I will be hosting a wonderfully diverse group of guests at our seder, including students and people from outside the Jewish community. We relish the opportunity Passover brings to introduce new people to our story and to ensure that all those who want to celebrate have a place to go. I invite you to put an extra seat at your seder table for someone who may have nowhere else to celebrate. There are many people who would love the invitation, be they newcomers, seniors, or young adults. Please make an effort to seek them out.
For those of you with young families, PJ Library (which our Federation funds) is involved with two family-centric seders, one at Beth Israel and one at the White Rock/South Surrey JCC. Wherever, however, and with whomever you celebrate, seders are wonderful opportunities to introduce your children to the beauties of Passover.
Shabbat shalom,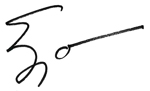 Ezra S. Shanken
CEO, Jewish Federation of Greater Vancouver