This message has 756 words and will take about 5 minutes to read.
Building people-to-people connections between members of our community and our partnership region of the Upper Galilee is a key function of our Gesher Chai (Living Bridge) program. At its heart is the idea that anyone and everyone living in our community – especially young people – should have the opportunity to feel like they have family in Israel and vice versa. How wonderful then that students and teachers from two of our local high schools were able to visit there recently – some of them are there right now.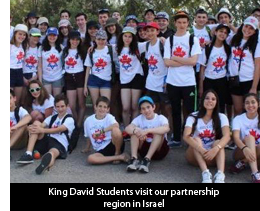 The grade eight class of King David High School are in our partnership region this week connecting with their peers at their sister school, Har Vagai, as they do every year. The trip is both a culmination of many months of preparation by the students and their teachers and a starting point for the lasting relationships they will build over their high school years with the students and faculty of Har Vagai.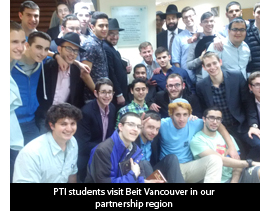 Students from Pacific Torah Institute came home a few weeks ago from a trip that included a visit with students at Yeshivat Hahesder and a stop at Beit Vancouver in Kiryat Shmona. This was the first Israel trip for the whole school, and it came about when the students were presented with a challenge. Give up the "smart" functions of their phones for a year, they were told, and the Israel trip would be their reward. Think about that for a minute. Teenagers gave up their smart phones for an entire year! In a world where we are so tied to our smart phones, consider what they gained by freeing themselves from their devices.
We provide funding for these trips through the Federation Annual Campaign, as well as scholarships for students who need financial assistance. For many students this is the first time they have been to Israel, and it is a pivotal experience for them. Traveling as a class builds a real sense of community for these students, both during the trip and when they come home. They're incredibly lucky to have their teachers there with them to guide them through the many new experiences they are having each day.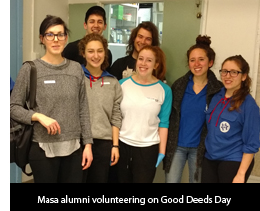 After high school many young people take a "gap year", and Masa Israel Journey is a popular choice. Operated by our partner the Jewish Agency for Israel, Masa has started funding a part-time initiative co-ordinator position filled by Dafna Silberstein in our office. The first local Masa alumni event was to feed the hungry as part of Good Deeds Day. While I was in Israel I was very impressed to see Masa tourism industry interns highlighted on a poster in my hotel. It brought home for me that there is a real pride in the partnerships Masa creates between its participants, its employers, and its funders, supporters and operators.
More than 200 young people from our community have participated in Masa programs over the last decade or so, and the Federation Annual Campaign funds scholarships for those who qualify. Engaging young people in Israel experiences, and then connecting them to our community when they come back isn't just great for them, it's great for all of us. When we create deeper connections to Israel for young adults, we create a new generation of leaders in the diaspora.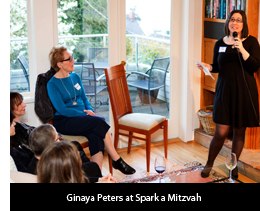 Speaking of community leaders, the women of our Lion of Judah recognition society recently held another event in our Spark a Mitzvah series, this time focusing on the BRCA gene. Some Jewish women are more likely to carry a mutated gene that increases the likelihood that they will develop breast or ovarian cancer. For those who suspect they may carry the mutated BRCA gene, the decision to get tested isn't always a simple one. Canada is the only G7 nation without legislation protecting against genetic discrimination, which leaves carriers vulnerable, particularly when seeking insurance policies. Teresa Quick's experience sheds light on the issue. Fortunately, there is hope on that front with Bill S-201, on which our advocacy partner, CIJA, has been active.
Kol hakavod to our Lions of Judah for taking on these important issues by bringing together 50 women from across our community to hear from medical oncologist, Dr. Karen Gelmon, and breast cancer survivor and BRCA1 carrier, Ginaya Peters. Not only did they start an essential dialogue, they raised enough funds to hold two Shabbat dinners for Jewish adults with mental health issues and other challenges. Leave it to our Lions, their speakers, and event host Audrey Mehler to take this difficult topic and present it in such a sensitive and meaningful way.
Shabbat shalom,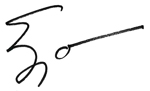 Ezra S. Shanken
CEO, Jewish Federation of Greater Vancouver