This message has 1,281 words and will take about 5 minutes to read.
As a new dad, I often find myself reflecting back on my own childhood as Rachel and I think about how we want to bring up our boys and the experiences we hope to provide for them. I admit it freely: whether it's day camp or overnight camp, I hope Jewish camp will be an experience they love as much as I did. I remember my days as a camper both at Ramah Nyack Day Camp and Ramah Berkshires overnight camp fondly.
We've all heard the stats about the power of Jewish summer camp. No? Well, I'll get to that in a second. First, I want to share with you a great article in The Washington Post a few weeks ago about how overnight summer camp gives kids a competitive advantage in life, in part though fostering creativity that naturally leads to innovation. Our kids aren't just learning this as part and parcel of the camp experience, they're learning it because the incredible camps we have easy access to in our community are modeling it for them. I try to visit as many camps as I can each summer, but I wasn't able to go to all of them this year. Although I wasn't able to visit Camp Kalsman, I want to make special mention that they are celebrating their 10th anniversary and say mazel tov to them. As for the camps I was able to visit, I asked them to share what they've been doing.
Camp Hatikvah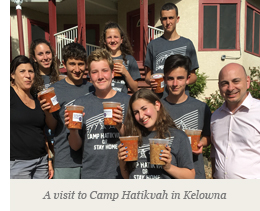 Camp Hatikvah began noticing that many staff were facing increasing pressure to spend their summers in internship programs related to their field of study rather than at camp. Hatikvah unveiled an exciting and innovative program called "Project Kesher" to connect staff willing to commit to spending July and August at Hatikvah with members of the Hatikvah community who host them in an internship and mentoring program in May and June. The young adults chosen to be a part of this program get the best of both worlds. The longer these young adults stay at camp, the more connected they are with their Jewish roots and culture. This, Camp Hatikvah believes, will benefit our community as a whole for years to come.
JCC Day Camp Shalom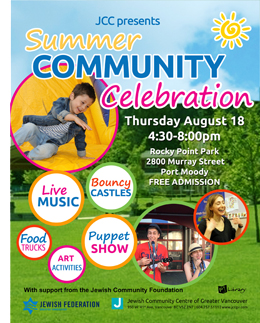 This is the third year of our partnership with the JCC to provide transportation for children from the Tri-Cities to attend Day Camp Shalom. While the Tri-Cities has one of the fastest growing Jewish communities in Metro Vancouver, Jewish programming is sparse and parents are keen to provide their kids with Jewish options. Knowing that the long drive into Vancouver twice a day is a barrier for many families, providing transportation continues to be a simple but innovative tool to promote Jewish community connections that might not otherwise be possible. This year alone, more than 20 campers are attending Day Camp Shalom through this program. For those of you who live in and around the Tri-Cities, I hope you will join us on Thursday in Port Moody for the Summer Community Celebration.
Throughout the summer, every space at the JCC is packed with campers, including a number of campers with special needs for whom the JCC provides one on one support, so they can be included in activities with all the other kids. If we are serious about inclusion, we need to make sure that everyone has equal access to the great things that are happening in our community, and that goes double for our children.
Habonim Dror-Camp Miriam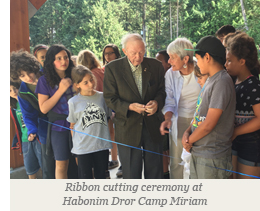 Camp Miriam had a dedication ceremony for the new pavillion which was built last year, thanks to the generous support of the Paul and Edwina Heller Memorial Fund at the Jewish Community Foundation. The Pavillion, which provides a shady, dry place for a range of daily activities, is warmly called The Janusz, in honour of Janusz Korczak who was the Polish Jewish physician whose orphanage in Warsaw was run on the principle of respect for the children as humans, and the children were involved in the education process and the management of the home until their evacuation by the Nazis. Today, Camp Miriam emulates Korczak's philosophy in the way the staff and campers manage the day to day upkeep of the camp and in the election of campers to jobs which they hold over the session. The nominations for these jobs take place in the pavillion, making for a meaningful coming together of Camp Miriam and Korczak's legacy.
Camp Solomon-Schechter (CSS)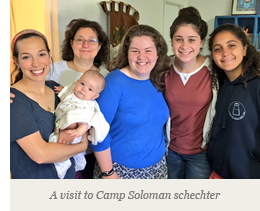 What do you do when your camp is evacuated due to forest fires, one day before it is set to start? This is the situation that Sephardic Adventure Camp (SAC) found itself in two weeks ago. Understanding that no Jewish child should be denied a summer at camp, Sam Perlin, executive director of Camp Solomon- Schechter offered to host SAC. Because of the difference in ages and religious practices, the two camps will run their programs concurrently but separately. This cooperative arrangement is just one example of how we might practice our Judaism differently from each other, but that what really matters is we are all part of one greater Jewish community and are there to give each other a hand up when needed. As Sam Perlin, executive director of CSS said, "Our campers and staff are living up to our Jewish value of gimilut chasadim: love thy neighbor as thyself."
These are exactly the types of innovative programs and creative solutions that we need the next generation to absorb as they become well-rounded adults. When they see Camp Hatikva finding a way to meet the needs of their hearts and their future careers, when they see community members creating legacies for campers at Camp Miriam, and when they open their arms and their cabins to welcome kids and staff who needed shelter and community at CSS, our kids are gaining experiences they will draw on not for the rest of the summer, but for the rest of their lives.
Having all of this wrapped up in an immersive Jewish experience has a lasting impact, too. Findings from a 2011 study called Camp Works shows that adults who attended Jewish overnight camp as children are:
21% more likely to feel being Jewish is very important;
37% more likely to always/usually light Shabbat candles; and
55% more likely to feel very emotionally connected to Israel.
Sadly, Jewish camp experiences are out of reach for many children whose families are finding it increasingly difficult just to keep their heads above water in this incredibly expensive city. An article a few weeks ago in The Canadian Jewish News illustrated the sacrifices many Jewish families are making. One of the ways in which your campaign gift is helping is by funding camperships, so families who might not otherwise be able to give their kids a Jewish summer camp experience can do so.
Many thanks to Leah Levi, registrar of Camp Miriam, Eldad Goldfarb of the JCC, Joanna Wasel, co-chair of Camp Hatikva, and Lissa Weinberger of Camp Solomon-Schechter for contribution portions of this week's message. For a list of Jewish camps in and around BC, visit our Community Directory, keyword "camp."
On Saturday night, we enter into a darker space as we observe Tisha B'Av. Sometimes, in these dark spaces it's hard to see the light when we're mourning so much destruction. However, I hope reading about the fact that we are still transmitting our Jewish values in such a powerful way through experiences like those provided by summer camps holds meaning for you.
Shabbat shalom and may you have a meaningful fast,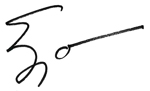 Ezra S. Shanken
CEO, Jewish Federation of Greater Vancouver