This message has 742 words and will take about 3 minutes to read.
The way in which we value the youngest and the oldest members of our community defines who we are to a large extent, and it's a thought that seemed to sum up much of the activity in our community this week.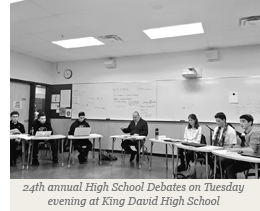 At the 24th annual High School Debates on Tuesday evening at King David High School (KDHS), I watched as our community's teens tackled both sides of some of the complex current issues that adults and even world leaders are dealing with. This event brings Jewish students together from a variety of schools and Jewish programs, and I was honoured to give the opening remarks at the event in the absence of Sandy Wohl, chair of the debate committee.
The debaters really stretched themselves out of their comfort zones, with the grade 12 students taking on this topic: Be it resolved that a state's security concerns should take precedence over the privacy rights of a country's citizens. The event is a wonderful way to connect to the tradition of debate that has played such an important part in characterizing Jewish learning and culture, while engaging young people in issues that are relevant today. It also strikes me as incredibly Canadian to take part in such passionate but respectful debate. Our Federation is proud to support the High School Debates through staff support from Lissa Weinberger, our manager of Jewish education and identity initiatives.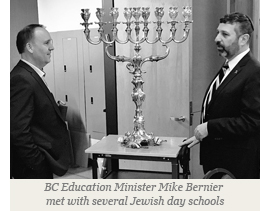 The next day, I joined many of our community's educators in welcoming BC Education Minister Mike Bernier who met with several Jewish day schools, including KDHS, Richmond Jewish Day School, Vancouver Hebrew Academy, and Vancouver Talmud Torah. We were proud to work together with our advocacy partner, The Centre for Israel and Jewish Affairs, to coordinate these meetings and school visits.
We are fortunate to have a provincial government that continues to be committed to supporting choices for Jewish parents, so our kids can receive top notch general studies education alongside Judaic studies at Jewish day schools. Our Federation provides nearly $900,000 a year to support Jewish education in our community, and our goal is to increase that by an additional $250,000 by the year 2020 to provide additional subsidies, to support more students with special learning needs, and to promote innovation in the classroom.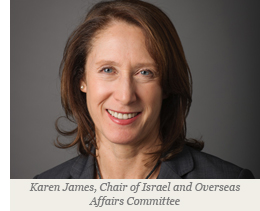 Our Federation is committed to engaging Jews across the spectrum, including the age spectrum. Jewish Family Service Agency (JFSA) hosted their annual Seniors Lunch this week, where Karen James (who happens to be chair of our Israel and Overseas Affairs Committee) told her powerful personal experience of competing in the 1972 Olympic Games in Munich.
Seeing the years of community involvement and service represented in the room was a great reminder that it is our seniors who have gotten us all to the place we are today as a community. Many of them already rely on the programs and services we fund at JFSA and a host of other partner agencies, and many more will need to rely on them in future.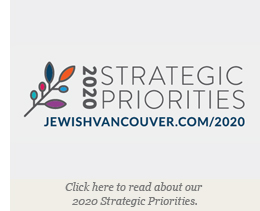 Our population of Jewish seniors is expected to double by the year 2030, and we have identified seniors programs and services as one of our five key areas of opportunity in our 2020 Strategic Priorities. While our current funding is growing, it is not enough to ensure that all of our seniors will be able to age in place with dignity in the coming years.
We are planning to meet these and other increasing needs in large part by growing the Federation Annual Campaign to $10 million in 2020. In order to get there we need to hit our milestones every year along the way. We did that last year and we have a good chance of doing so again – but it won't come easily. Every single gift counts, no matter the size. This is a journey that can only be made with the help of all of our community members. We know that some donors wait until the end of the year to make their gifts, and if that describesyou then I hope you will contribute and enjoy a 2016 tax receipt. Think of it as anearly Hanukkah giftto our kids, our seniors and everyone in between.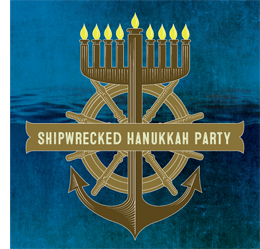 Speaking of Hanukkah, our young adult group, Axis, is hosting their Shipwrecked Hanukkah party on the 22nd in partnership with JNF Future. If you're in your 20s or 30s, I hope to see you there. If you're not, please pass the word along.
Shabbat shalom.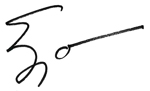 Ezra S. Shanken
CEO, Jewish Federation of Greater Vancouver