This message has 924 words and will take about 4 minutes to read.
I do not recall a Jewish home without a book on the table. – Elie Wiesel z"l
It's true, isn't it? It's true of your home, my home, our parents' homes. As Jews, our relationship with the written word extends beyond our holy books to secular books that expand our minds and reflect our strong tradition of learning. Both my father and father-in-law are English teachers, so having homes that celebrate the secular and Jewish word is familar to Rachael and me.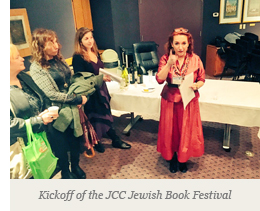 One of the programming areas we fund through the Federation Annual Campaign is cultural arts at the Jewish Community Centre. So we were very proud to have helped make the Cherie Smith JCC Jewish Book Festival possible this past week. There's nothing better than opening a book for giving us a moment of reflection or escapism when we need it, and as usual the book festival didn't disappoint.
I had the pleasure of attending the festival's opening night gala, which featured an interactive presentation with writer and existential psychiatrist Irvin Yalom, author of Creatures of a Day and Other Tales of Psychotherapy in conversation with local psychotherapist, Larry Green. This was especially meaningful to me because my mother is a psychologist. I met many people at the event that credited Irvin's stories for inspiring them to become therapists and social workers. One of our festival leadership's observation highlighted that the way Irvin answered questions from the audience with such love was what makes him such a special speaker.
In addition to supporting the event as a whole, through PJ Library we co-sponsored an event with the festival called "Get Ready for Chanukah" with PJ Library author and illustrator, Richard Ungar, who wrote Yitzi and the Giant Menorah. More than 25 children and parents joined us and made new friends at this fun storytime. PJ Library supports families in their Jewish journey by sending them monthly, a free Jewish-content children's book. For many families, the act of reading a PJ Library book is a primary means of learning about their Jewish heritage and passing it on to the next generation. The program is supported through the Federation Annual Campaign and by special gifts from generous donors, but demand for this popular program constantly outstrips the available funding as evidenced by the waiting list. No sooner do we clear it than it builds up again, with parents and kids losing precious opportunities to make Jewish connections through their incredible selection of books.
The Cherie Smith JCC Jewish Book Festival consistently draws more than 5,000 people to the JCC each year, and it is was wonderful to see so many community members come together through a shared love of reading. But at Federation, books weren't the only things on our minds.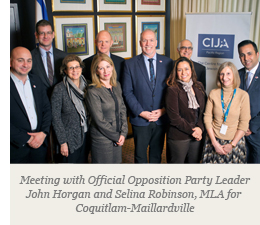 On Monday, together with the Centre for Israel and Jewish Affairs (CIJA), we hosted productive discussions with B.C.'s Leader of the Official Opposition, John Horgan, and Selina Robinson, Member of the Legislative Assembly for Coquitlam-Maillardville. Lay leaders and professional staff representing a wide range of perspectives discussed such priorities as anti-Semitism, community security, affordable housing, eldercare, Jewish education, ethno-cultural cooperation, and the centrality of the State of Israel to the Jewish community. Mr. Horgan expressed his appreciation for B.C.'s vibrant Jewish community and recognized the importance of working with our community to confront hatred and intolerance wherever it exists.
We have long taken a proactive approach to community security. We started this week with the welcomed news from Ottawa that Minister Ralph Goodale is instituting changes to the Security Infrastructure Program to make it easier for communities to apply for this vital funding. Kol hakovod to CIJA who worked so hard to make this possible. Another way we have addressed the security needs of the community's events and institutions is through our security grants program. These grants have been used by our community institutions to address unmet security needs identified through security audits. Since 2009, more than 29 different organizations have received security grants to cover the cost of things like the purchasing, installation and upgrading equipment, and training for staff and volunteers. In 2013, in response to increased security risks throughout the world, we expanded the scope of the security grants to include security personnel for organizations such as the schools and the JCC. The security guard you pass every day on your way in and out of the JCC is one example.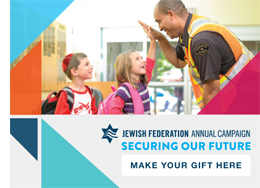 As times have changed, so have the security needs of our community, and so we are leading the development of a more comprehensive approach that keeps our community ahead of the curve. Security is one of the five areas of opportunity we identified in our 2020 Strategic Priorities and is the main focus of this year's Federation Annual Campaign. This area of work has motivated a group of generous donors to increase their campaign gifts this year and fund a security match. Every increase (and every new campaign gift) is being matched by a group of generous donors who understand the importance of this issue and how it impacts every single one of us. There's still time to get your gift in at jewishvancouver.com/donate or by calling us at 604.257.5100 so you can play your part.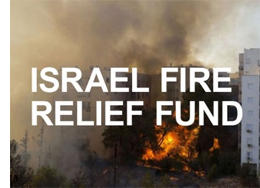 Also, if you are looking to help those impacted by the fire in northern Israel, Jewish Federation of Greater Vancouver and Jewish Federations of Canada – UIA have opened an Israel Relief Fund to provide financial aid to communities on the frontline of the fires and essential relief support to the immediate response and emergency personnel.
Shabbat shalom.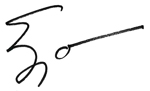 Ezra S. Shanken
CEO, Jewish Federation of Greater Vancouver