This message has 1066 words and will take about 4 minutes to read.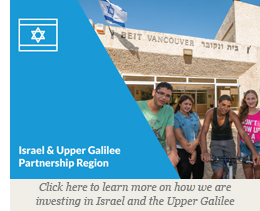 Every year, groups of volunteer leaders from our community board planes and head to Israel to join countless leaders from across our country and across our partnership region to ensure the bridge between Israel and Vancouver is the strongest it can be. It's no small commitment from them to lead these efforts and to make their way to Israel (often several times a year) as part of their volunteer roles. The fact is they are deeply immersed and committed to this work, which, quite honestly, would not be possible without them. I've invited two of them, Karen James and Pam Wolfman to shed light on the Israel piece of our 2020 Strategic Priorities in this week's message.
While we support programs for vulnerable populations across Israel, much of our work is focused on the Upper Galilee or Eztba Hagalil. If you've been there, you know what a special part of the country it is. From pomegranate orchards to green fields and rolling hills, its serene pastoral beauty draws you in and wraps itself around you. But never far off is the knowledge that you are surrounded on three sides by Lebanon and Syria, and all the security issues that are daily realities for residents. The beauty of the area can mask other ugliness, too, like the fact that life expectancy here is a full two years shorter than for people living in Central Israel. Why? Because on top of the security considerations, this area struggles with some serious socio-economic issues that take a toll on adults and kids alike.
There are over 15,000 vulnerable children in the region who just don't have the advantages and opportunities that will help them break the cycle of poverty. That's where we come in. Here's what Karen James, chair of our Israel and Overseas Affairs Committee had to say:
Our community supports educational, social and strategic programming in our partnership region and in our partner city, Kiryat Shmona. Making a difference in the northern periphery, where the population is more vulnerable and more at risk, we have often seen first-hand how our dollars are at work. Whether it is teaching technical skills to youth, providing youth leadership opportunities, helping build a shared society with coexistence education or helping the physically disadvantaged, I think we can feel truly proud of the amazing work our funds are supporting.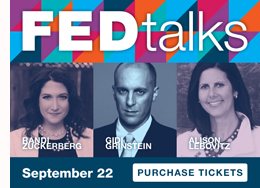 We are especially proud of Beit Vancouver, an extremely active and successful youth centre that serves 1,300 vulnerable young people who might not otherwise have anywhere to go – let alone learn and grow. Funding for Beit Vancouver's operations and for the programs it offers is provided by the Federation Annual Campaign and special gifts from generous Vancouver donors (as well as this amazing 11 year old!). Helping these kids get on track has a ripple effect throughout the region that will ultimately contribute to "leapfrogging" Eztba Hagalil over its socio-economic hurdles. Other strategic investments we've made, like our support for the building of the Bar-Ilan University Faculty of Medicine in the Galilee, are part of this leapfrog approach. You'll hear more about that from Gidi Grinstein, founder of the Israeli independent think-thank The Reut Institute, when he presents at FEDtalks. (Did I mention tickets are on sale now?)
Our work is having an impact, but we're not going nearly far enough. We need to provide more after school programming for kids with special learning needs, more support for families and children dealing with issues of addiction and abuse, and more opportunities for kids to jump over the barriers they grew up with and reach their full potential. As you can well imagine, all of this takes considerable additional resources, and we've set a goal of raising an additional $550,000 by 2020 to support this life changing work. A few years ago someone asked one of our Israeli partners why he lives there if it's so hard and so dangerous. His answer was simple: "If not, soon the border will be at Tel Aviv."
Another big part of our work is the Gesher Chai (Living Bridge) program that builds personal connections between members of our local community and those living in Etzba Hagalil. As chair of our Gesher Chai committee, Pam Wolfman is taking the lead on many great initiatives taking place in our community, including, she says, "the Educators' Conference, which several of our teachers and heads of school attended a few short weeks ago, and that serves to enrich our educators both here in Vancouver and in the Galilee Panhandle." And what's more Israeli than hockey? I'm serious. Israel's only ice rink is in our partnership region. "In two weeks," Pam says, "two young hockey players and one chaperone from the Canada Israel Hockey School in Metulla will join our JCC team to attend the games in Stamford Connecticut as "Vancouver/Galil. Opportunities like these for our community members lay the foundation for a new or stronger connection to the people and the land of Israel, and contribute to our Israeli partners' understanding of Jewish living in the diaspora."
Building these connections has a lasting effect. Israel engagement among young people is a big predictor of future communal involvement and leadership. We want to increase the amount we allocate to scholarships for Israel programs so we can get more young people to Israel and make it more affordable for them and their families to take part in these experiences. We also need to increase our funding for Israeli arts and cultural programming in Vancouver, which is such an effective way of connecting unaffiliated community members and introducing Israel to the general population in a positive way.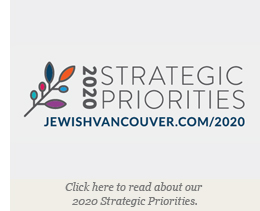 There's something really special about our community's relationship with Israel, especially seeing as we are one of the most geographically distant communities from Israel. One thing that struck me early on when I came to Vancouver in 2014 is the number of families I called on who had children or other family members affected by or serving in last operation in Gaza. I spent so much of my early days here maintaining contact with those families. It's our hope that with the implementation of our 2020 Strategic Priorities we continue along the well-worn path of those who have committed so much to the vibrancy of the State of Israel both in its humble beginnings and its remarkable present.
Shabbat shalom and happy BC Day!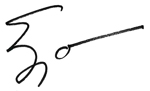 Ezra S. Shanken
CEO, Jewish Federation of Greater Vancouver