This message has 669 words and will take about 3 minutes to read.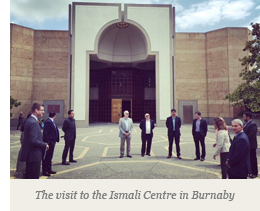 Part of what makes us a strong community is our ability and willingness to be a part of what happens around us. In today's world, being isolated rarely benefits anyone. What does reap rewards is seizing the opportunity to build bridges, whether that be through interfaith relations, raising our voices on important issues, reaching out to Jews in the regional communities, or honouring those who given from their hearts.
Last week Shelley Rivkin from our office and Yael Levin and Nico Slobinsky from The Centre for Israel and Jewish Affairs had a magnificent visit to The Ismaili Centre in Burnaby, where our two communities came together in the spirit of friendship. Representatives gave presentations about our respective communities, our organizational structures, and programming examples on youth, seniors, poverty alleviation, and religious education. I would like to thank The Ismaili Council of BC and the CIJA Pacific Region Local Partner Council (LPC), chaired by Jason Z. Murray for participating in this important exchange.
It is not often that we have an opportunity of this sort, but we have more in common than you might think. Both communities share a focus on philanthropy and we have similar concerns about security.
Speaking of security, I invite you to make your voice heard in the effort to encourage the Federal government to modernize the Security Infrastructure Program (SIP) to help protect at-risk communities. SIP is a vital, low-cost program that has made Jewish institutions - including synagogues, day schools, and JCCs - safer. Click here to send an email to the Minister of Public Safety and your local MP. You can learn more about the importance of SIP in this article by Shimon Fogel, CEO of CIJA.
Our Federation has long taken a proactive approach to security in our community. Our Community Security Advisory Committee, chaired by Bernard Pinsky is actively engaged in expanding the scope of security in our community. We saw the direct benefits of their knowledge and expertise during the numerous Israel related events held this past month. However, without the support of the SIP program we will not be able to respond to the security upgrades required to ensure the safety of our community institutions.
Security as a concept is multifaceted, and another way we look at it is in terms of securing a strong future for our community.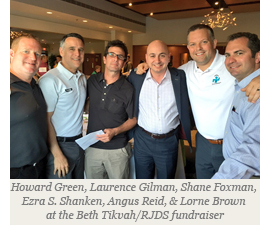 I attended the Beth Tikvah / Richmond Jewish Day School fundraiser a few nights ago, and it was a great example of the Jewish activities that are going on beyond the borders of the City of Vancouver. It was as good a reminder as any that we are in the middle of very important survey.
Please take a moment and send this to your Jewish friends and family in the regional communities – that's anywhere between Whistler and Chilliwack (just not Vancouver proper). If you live in the regional communities, please complete the survey today. And then share it widely.
Email them this survey link: www.jewishvancouver.com/survey

Share this post on Facebook.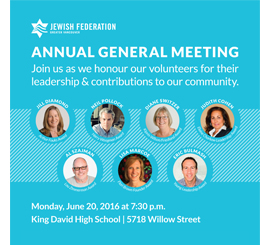 Right after you share the survey, go into your calendar and block off Monday, June 20th at 7:30 p.m. for our AGM. We will be honouring seven of our incredible volunteers, and you'll want to be there.
Jill Diamond
The Arthur Fouks Award for dedication to the goals for Jewish Federation and outstanding campaign leadership.

Neil Pollock
The Harry Woogman Award for consistent and conscientious hadracha v'dugma (leadership by example).

Diane Switzer
The Kipnis-Wilson/Friedland Award, which honours extraordinary women who have set a high standard for philanthropy and volunteerism.

Judith Cohen
The Elaine Charkow Leadership Award for ongoing leadership in Women's Philanthropy.

Al Szajman
The Lou Zimmerman Award for outstanding campaign volunteer contributions and rapport with fellow volunteers.

Lisa Marcoe
The Flori Brown Founder Award for outstanding volunteer contributions and dedication to Women's Philanthropy.

Eric Bulmash
The Young Leadership Award for the service and leadership on the part of an exceptional young adult.
Mazel tov in advance to these very worthy honourees.
Shabbat shalom,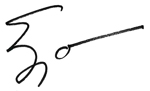 Ezra S. Shanken
CEO, Jewish Federation of Greater Vancouver