This message has 839 words and will take about 4 minutes to read.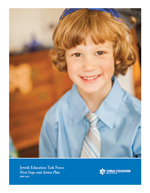 Here on the Lower Mainland, we are extremely fortunate to have a wide variety of Jewish education options, but as our community changes and spreads out geographically, our long-term strategic approach to supporting Jewish education must adapt along with it. To that end, I am very proud to announce the release of our Jewish Education Task Force Report.
The task force, co-chaired by Risa Levine and Rob Greenwald, completed a comprehensive review of formal and informal Jewish education throughout our community. They identified gaps, reviewed established best practices and programs, and have provided recommendations in the areas of funding, professional development, marketing and promotion, and innovation. We have set up a Jewish Education Committee as part of our Planning Council to determine how to operationalize these recommendations.
Among the task force's key findings are the issues of affordability and access, and the need to create a balance between strengthening existing Jewish education providers while promoting innovation through the creation of new delivery models. When we met earlier this week with the heads of the local day schools and their leadership to discuss one of the key issues that was identified in the report, day school affordability, I was struck by the open and authentic manner in which everyone around the table discussed the complex issues we face. We are privileged to have such thoughtful and capable partners. Over the next few months, we will be holding similar meeting with our supplementary school leadership and informal education providers.
I would like to thank Risa and Rob for their leadership, along with task force members Alex Cristall, Renee Katz, Rozane Kipnes, Sarah Levine, Karen Levitt, Shawn Lewis, Dr. Richard Menkis, Barry Rivelis, and Sari Zack. I would also like to thank Shelley Rivkin, our vice-president, planning, allocations and community affairs, for her professional guidance, as well as the parents, educators, board chairs, administrators, and community rabbis who provided their insights into this process.
While we're on the subject of education, our partner, the Vancouver Holocaust Education Centre (VHEC), fills an incredibly important gap for public school districts and educators who want to include Holocaust education in their curricula. They do this through a combination of exhibits and school programs, tours, and symposia, and we are proud to support their work through the Federation Annual Campaign. The VHEC created a new generation of young witnesses this week when they held their third annual Delta school district symposium for high school students in Tsawwassen. The students heard from UBC history professor, Chris Friedrichs, followed by a screening of part of the documentary World At War, and the first-hand testimony of Alex Buckman, a child survivor.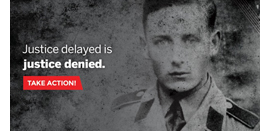 Hand in hand with Holocaust education comes the responsibility to bring the perpetrators of these atrocities to justice. We believe this should include Helmut Oberlander, a member of a Nazi mobile killing unit responsible for the murder of more than 90,000 Jewish men, women, and children. He lied about his past to gain entry into Canada, where he continues to reside. Take action today and sign this letter to Minister McCallum to revoke Oberlander's citizenship, and then share it on Twitter and Facebook. Many thanks to our advocacy partner, The Centre for Israel and Jewish Affairs (CIJA), for their leadership on this initiative.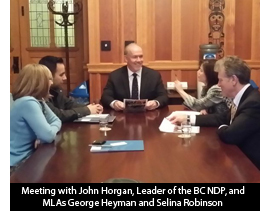 CIJA, The Canadian Jewish Political Affairs Committee and Jewish Federatin of Victoria also deserve plenty of kavod for their terrific event in Victoria this week, where together they hosted more than 80 MLAs and political staff. I was proud to attend with our board chair, Stephen Gaerber. Shelley Rivkin and CIJA's Nico Slobinsky also held a private briefing with John Horgan, Leader of the BC NDP, George Heyman, MLA for Vancouver Fairview and Selina Robinson, MLA for Coquitlam-Maillardville, to discuss the demographic changes in our community and how young families are being impacted by escalating housing prices. Coquitlam is one of the cities experiencing high growth in the number of Jewish families and individuals living there. Our community is impacted by public policy just like any other, and events and meetings such as these help elected officials better understand the multidimensional nature of our community and the issues that affect Jews in British Columbia and throughout Canada. If the theme of this week's Shabbat message is education, then you could consider this an education of a different sort.
Ultimately, helping elected officials get to know our community better has a net effect on all the work Jewish organizations do on behalf of the community – which brings me back to the Jewish Education Task Force Report. Our community planning role is one of the most important aspects of our work, yet it is not always the most visible. I can think of nothing more Jewish than learning about learning, so I really do encourage you to read about the issues affecting Jewish education in our community and the recommendations to address them. After all, as Elie Wiesel once pointed out, "The Jewish tradition of learning — is learning. Adam chose knowledge instead of immortality."
Shabbat shalom,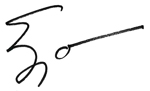 Ezra S. Shanken
CEO, Jewish Federation of Greater Vancouver