This message has 813 words and will take about 4 minutes to read.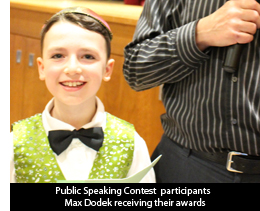 The Annual Public Speaking Contest and new Writing Contest that were held last week are near and dear to my heart. I'm not exactly shy about getting up and talking in a crowded room, but as a child I was as nervous as anyone. Search online and you'll see that public speaking ranks as one of the top fears people have, but if you're going to be a community or business leader it's a skill you would do well to develop. And that's just what more than 120 young students did.
It's very special to feel the energy and excitement throughout the JCC, every room of which was packed. Kol hakavod to all the students in grades four through seven who participated, and todah rabbah to the parents who sent us their children's winning speeches. I hope you will take a moment to enjoy them.
Behind every student and every family who took part is a network of teachers who have integrated these contests into their curricula and guided their students to success.  This would not be possible without the support and leadership of the heads of schools and principals, specifically Rabbi David Bluman of Beth Israel Hebrew School, Abba Brodt of Richmond Jewish Day School, Cathy Lowenstein of Vancouver Talmud Torah, and Rabbi Don Pacht of Vancouver Hebrew Academy. Thank you for your commitment and the amazing ruach you and your students brought to these contests.
There is a wonderful intergenerational connection to these events. The Public Speaking Contest was started 28 years ago by Larry Barzelai and his family to honour the memory of his father, and the Writing Contest was inspired by Neil and Michelle Pollock and their family to offer an exciting new way to engage young people. Our Jewish Federation is proud to support these contests in partnership with State of Israel Bonds, the Jewish Community Centre and the Isaac Waldman Library. What better way to help cultivate the future leaders of our community?
Speaking of community leaders, I would like to congratulate Alex Cristall on his appointment as chair of the 2016 Federation Annual Campaign. Alex has served on our campaign leadership team as co-chair of men's philanthropy and co-chair of major gifts for the past three years. He has served on the Federation Board and our Allocations Committee, as well as on the board of Maccabi Canada and as president of the Jewish Community Centre.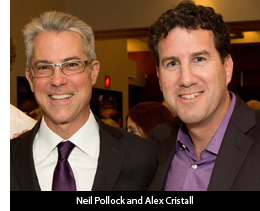 I found myself describing Alex the other day as someone who just gets it. He understands deep down how important community is, and he brings a passion that is truly authentic. He has been extraordinarily involved in our community and our campaign, and he is driven by the desire to make a positive and lasting impact. Our entire team is very much looking forward to providing the foundation Alex will need to thrive in his new role.
At the same time, of course, this gives me a wonderful opportunity to tell you about our outgoing campaign chair, Neil Pollock. There is so much to say – the man is an absolute force of nature. After a year of working particularly closely with Neil, one of the things that strikes me about him is that he is constructively discontent. What I mean is that he constantly seeks to improve whatever he takes on. He is never satisfied with the status quo; he never settles. He always strives to make things better for the next person or for the next generation. He's proven that time and again throughout every aspect of his life, including his philanthropic and Jewish community commitments.
Neil took the reins of our campaign at a time when expectations were very high: we hoped he could hold on to the $8 million record result that his predecessor, Harvey Dales, led us to. But what did he do? He took it all the way to $8.3 million. He knew we could be doing more for our community and he was determined to see it done. Neil is all in, whatever role he takes on, and so we are grateful that he will continue to share his passion and energy as immediate past chair. I am very grateful for the opportunity to continue to work with him for the benefit of our community.
Our community relies on the time, talents and commitments of leaders like Alex and Neil. Developing new leaders through programs like Axis Leadership Lab is an important part of our work, but it begins much earlier in life. One of the topics that students challenged themselves with for the Public Speaking Contest and Writing Contest was how one should balance our commitment to tzedakah with our commitment to volunteering to improve the world. What a wonderful subject for kids to use as they start their journeys, and for we adults to contemplate this Shabbat.
Shabbat shalom,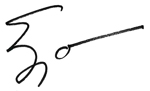 Ezra S. Shanken
CEO, Jewish Federation of Greater Vancouver