This message has 776 words and will take about 4 minutes to read.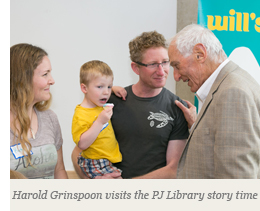 Is it ever too early to get involved in someone's life and engage them in community?

If you're Harold Grinspoon, the answer is no – you start building a child's community connections in infancy. Harold is the visionary philanthropist who founded PJ Library, a program that sends free Jewish children's books and music to families, no strings attached. For some families, PJ Library is their primary Jewish connection. We were delighted to welcome Harold to Vancouver last Sunday for a special PJ Library story time, followed by a brunch with our donors and leadership.
Jewish Federation, our donors, and the JCC support PJ Library locally, and here's a snapshot of our work so far:
1,200 local children have received books since 2010
745 local children currently receive books every month
Expanded to include children from six months old through age eight
More than 12 family events a year, many in the regional communities
What those numbers don't show is the very personal impact the program has – not just on children, but on their parents. Many PJ parents will tell you how much they learned about Jewish values, Jewish traditions, and Jewish holidays from reading with their little ones. If you haven't yet signed up your child or grandchild, start them on this Jewish journey today. Sign up here.
A generation ago, young adults would find their post-university community connections when they married, had children and joined a synagogue or enrolled their kids in Jewish schools or activities. Now that many young people are postponing those major life-cycle events, we need to find innovative and relevant ways to involve them. The eight-session Axis Leadership Lab is one of the ways that we are cultivating young Jewish leaders, and we're now moving our third cohort through the program.
I've had many people remark to me that it's not always easy to find your way into our Jewish community. We live in an incredibly beautiful city, but it's extremely expensive to make your home in Vancouver proper, where the bulk of Jewish institutions and activities are located. A recent survey indicated that 37% of Canadian homeowners couldn't pay their monthly bills at least once in the past year. That percentage is likely higher in Metro Vancouver, given the high cost of housing. Subsidization of Jewish life is the way of the future, given the current situation we're living in, and affordable housing is a piece of that puzzle.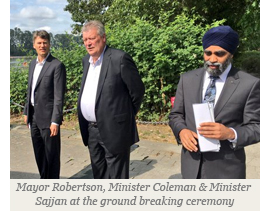 We are extremely proud to support Tikva Housing Society in their efforts to help low-income Jewish adults and families access safe, affordable housing. The official ground breaking ceremony for their new affordable housing project in Vancouver took place this week, and was attended by numerous municipal, provincial, and federal representatives. Through the Ben & Esther Dayson Residences, Tikva Housing Society will make 32 affordable housing units available in Vancouver, with another 10 coming up in Richmond. Being able to feel at home in our community is sometimes literally about finding a safe and affordable home in our community.
While we're always working toward a better future for our community, as Jews we know the importance of reflecting on our past. The Vancouver Holocaust Education Centre (VHEC) plays a pivotal role in that, and we're proud to support their work. Their gala Thursday night commemorated 40 years of Holocaust education in British Columbia. The VHEC engages 25,000 students throughout BC a year through visits to their centre and their 13 annual symposia for high school students. I was struck by the outpouring of support for Holocaust education from such a diverse group of people at the gala, and I was moved by the personal stories of those who spoke, including the adopted sister of Rob Krell, whose family hid him as a young boy.
Like the VHEC, our Federation never takes for granted the vibrant Jewish life we enjoy today, especially when so many lost or never had that opportunity. It is in everyone's best interest for as many people as possible to be able to participate in our community, because it makes everything about our community better. People want to be a part of this; we just have to provide the opportunities.
Before you settle in for Shabbat, I'd like to leave you with reflections on parshat Behar from Karen James, chair of our Israel and Overseas Affairs Committee and member of the Board of National Women's Philanthropy.
Shabbat shalom,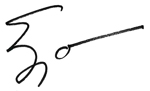 Ezra S. Shanken
CEO, Jewish Federation of Greater Vancouver
P.S. If you haven't yet had an opportunity to complete the census, please find some time to do this. Data gathered through the census plays an important part in helping organizations, including Jewish Federation, plan for our community's future needs.