This message has 737 words and will take about 3 minutes to read.
This past week, our volunteer leadership headed up our biggest ever delegation to our partnership meetings in Northern Israel, which were chaired by Stephen Gaerber.
Stephen has held a dual role in our organization over the past year and a half, taking on the role of Jewish Federation Board chair while continuing to serve as national chair of Partnership2Gether for the Canadian Coast-to-Coast communities. It's the culmination of more than 20 years of volunteer leadership with our Federation, and a testament to his commitment to our organization, our community and our partnership region.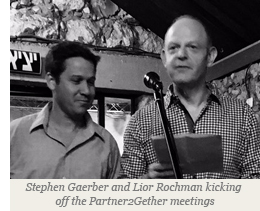 His dedication even caught the attention of the Canada's newly appointed Ambassador-Delegate, Deborah Lyons, who, remarked on the work Stephen's done for the partnership, telling us at a private reception she hosted that it was a privilege to welcome him to her home. These meetings were the last Stephen led as national chair, and we asked him for his reflections:
Serving as the Canadian co-chair of the partnership, together with my Israeli co-chair, Lior Rochman, has been one of the most meaningful experiences of my life. While one of the most beautiful regions in the country, the Upper Galilee has tremendous challenges. Vancouver, along with the other Canadian communities in our partnership, have formed a beautiful personal and professional relationship with the mayors, municipal staff and Israeli laypeople, and we are having a tremendous impact in helping to improve the lives of the local population. Over my four years as chair, it has been very gratifying to lead the increase in both people-to-people connections, primarily children and youth, as well as a large increase in funding available to make an even greater impact on the ability to create change.
One of the programs that is creating positive change is Krembo Wings, which brings together able-bodied teens with their peers who have disabilities or special needs in a social environment where there are no barriers to friendship. While the partnership approved funding for a number of new programs as a result of passing its new budget, our Federation is funding this one directly.
One experience during our visit to Krembo Wings will stick with many of us for a long time. After engaging in an extensive conversation with one youth counsellor, she turned to us and said, "You know I'm deaf, right?" We had no idea that she had been reading our lips the whole time. Back in June at our AGM, Karen James, chair of our Israel and Overseas Affairs Committee very thoughtfully remarked, "These children sometimes experience an overwhelming and unnatural social isolation, which is often more difficult to bear than living with the disability itself."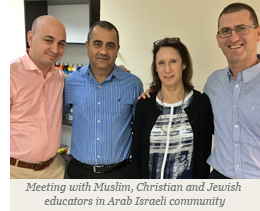 Continuing with this theme of inclusion, we visited Min ha Be'erot, a coexistence program that brings Jews, Christians and Muslims together to find commonality through the study of each other's religious texts. They take a lot of risks getting together like this, so it was absolutely beautiful to hear one of the principals of the Arab Israeli school talk about how he believes this is a way to move forward together.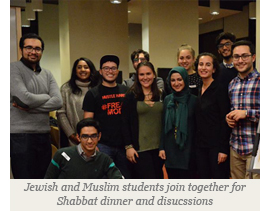 Back home, Hillel UBC was modeling what a respectful, inclusive campus looks like when they joined together with the Jewish Students Association (JSA) and the Thaqalayn Muslim Association (TMA) for a Shabbat dinner and discussion last Friday. "Over 70 students showed up for a delicious meal and, most importantly," said executive director, Rabbi Bregman, "heartfelt discussions about what it's like to be a Jew and a Muslim on campus today. This event took place at the Global Lounge… while the Sikh Student Association (SSA) was using our building for one of their main events of the year. This is what dialogue looks like and what a university is supposed to be about!" We are so proud to support their work through the Federation Annual Campaign.
This Shabbat, approximately 500 people will say Hamotzi over challah they made with their own hands at the two community challah bakes that took place last night. Baking challah is a simple but powerful act, and our Federation is proud to have been involved in these events as part of our commitment to connecting Jews across the Lower Mainland. If you weren't able to attend, we shared a delicious (and easy) recipe on our PJ Library Facebook page. We've made sure to send today's message a little earlier than usual, so you and your family have enough time to bake before Shabbat.
Shabbat shalom and I hope your Remembrance Day is meaningful and reflective.
Shabbat shalom.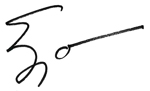 Ezra S. Shanken
CEO, Jewish Federation of Greater Vancouver