This message has 551 words and will take about 3 minutes to read.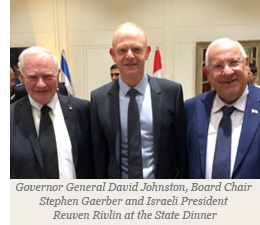 Shabbat shalom from Israel! There has been a lot happening in Israel this week, and our volunteer leadership has been front and centre representing our community and our organization on the international stage.
As you may already know, Governor General David Johnston was in Israel earlier this week on the first State visit ever undertaken by the Queen's representative in Canada. Two members of our leadership had the honour of attending some of the official events.
On Wednesday evening, Stephen Gaerber, our Board Chair, attended the State dinner hosted for the Governor General, along Linda Kislowicz of Jewish Federations of Canada-UIA and Deborah Korber, CEO of the Montreal Federation. The following evening, Karen James, chair of our Israel and Overseas Affairs Committee, represented us at the Friends of Canada reception for the Governor General. Both Stephen and Karen have been deeply involved not only in the overall work of our Federation and our community, but specifically the work we do with our partnership region.
Stephen and Karen are part of a 12 person strong delegation from our Federation who are in Israel this week for our annual Coast-to-Coast partnership meetings. Joining us are Shari Gaerber, Josh Kleinman, Alan and Candace Kwinter, Michael and Phyllis Moscovich, Pam Wolfman, Ted Zacks, and our Israel and Overseas Affairs director, If'at Eilon Heiber. Our volunteer leaders dedicate their considerable expertise and take time out of their busy schedules (not to mention the personal expense) to attend such meetings, often multiple times a year.
I believe this may be the largest delegation from Vancouver that has ever attended these meetings, and we make up 40% of the total attendees from across Canada. I will include some photos and details about the meetings next week, once they get underway, but in a nutshell, this is where we review the programs and projects at the heart of our strategic investment in Northern Israel.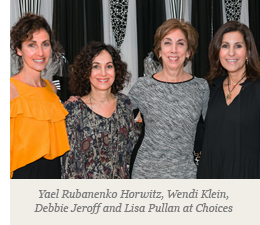 Before I left for Israel, we held our annual Choices event, at which nearly 500 women celebrated the positive impact women's commitment to tzedakah makes through our Annual Campaign. Event co-chairs Debbie Jeroff, Wendi Klein and Yael Rubanenko Horwitz, the Choices committee, and Women's Philanthropy chair Lisa Pullan worked tirelessly for months to ensure Choices was a success this year. They did a fantastic job and you can check out the photos on our Facebook page.
One of the speakers that night was Stephanie Mrackovich, who delivered with a very personal and inspiring story of how she discovered her Jewish roots and found her place in our community. "In my grandmothers last moments," Stephanie told us, "she explained that we are Jewish, and how her mother had repressed Jewish expression while raising her children in a nationalistic Orthodox Christian environment (in Yugoslavia)." The revelation was the impetus for Stephanie to explore and embrace her Jewish heritage. Her remarks were so moving that we've posted them on our website for you to read.
Finally, I would like to remind you that there is still time to make your Annual Campaign gift, if you haven't had the chance yet. Every gift is important and helps us and our partners reach thousands of people who need our help. If you have already made your gift, I thank you, our partners thank you, and the thousands of people you are helping thank you.
Shabbat shalom.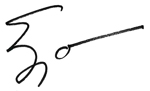 Ezra S. Shanken
CEO, Jewish Federation of Greater Vancouver