This message has 894 words and will take about 4 minutes to read.
I hope you had a meaningful fast and that you are looking forward to a pause this Shabbat before Sukkot begins on Sunday evening. It can be pretty easy to get caught up in the minutia of planning for and joy of celebrating so many holidays and festivals in such quick succession at this time of year, which makes it all the more important to take time to reflect on the bigger picture.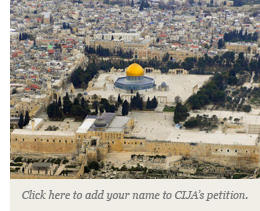 By now you have surely heard the news that the Executive Board of the United Nations Educational, Scientific and Cultural Organization (UNESCO) passed a resolution yesterday that essentially denies a Jewish connection to the Temple Mount. It describes the Temple Mount as being holy only to Muslims, with no mention that it is also sacred to Jews and Christians. It's not exactly a big surprise, coming as it does from a UN body dominated by representatives of countries that are no friend to Israel, but that makes it no less outrageous. Even UNESCO's director-general spoke out against the resolution, saying, "Jerusalem is the sacred city of the three monotheistic religions - Judaism, Christianity and Islam. To deny, conceal or erase any of the Jewish, Christian or Muslim traditions undermines the integrity of the site, and runs counter to the reasons that justified its inscription on the UNESCO World Heritage list [in 1981]." Kol hakavod to her for standing up for what is right.
Jewish Federations of North America and our advocacy partner, The Centre for Israel and Jewish Affairs (CIJA) both issued statements condemning the resolution. Stéphane Dion, Minister of Foreign Affairs, tweeted this: "Deeply disappointed @UNESCO World Heritage Committee decision ignoring link of holy sites to #Judaism in #Jerusalem". Canada is not on UNESCO's Executive Board and so was not part of the vote, so for the Minister to speak out against this anti-Jewish resolution is important and much appreciated.
CIJA got it right when they said this: "3,000 years before UNESCO existed, Jews prayed at the Temple - built on what is now known as the Temple Mount, and our deep connection with the site has remained strong, even after its destruction. Our history and our continued connection to Judaism's holiest site are not determined by a UNESCO vote." This, to me, is the bigger picture.
That's not to say that we rest on our laurels, content with knowing the truth. Absolutely not. This is a time for action and I urge you to condemn the UNESCO resolution here. I've already done so.
This is not the first attempt to re-write Jewish history that we have weathered as a People, nor is it likely to be the last. In 2014, a survey by the Anti-Defamation League highlighted some important statistics about Holocaust awareness and understanding: Only 54% of the world's population has even heard of the Holocaust; only a third believe historical accounts are accurate; and some think it's all a myth. Combine that with the dwindling number of survivors, and it's soul crushing. But it's also not the whole picture.
Our partner, The Vancouver Holocaust Education Centre continues to do an absolutely incredible job on this front in our community, from their exhibitions downstairs at the JCC to their symposia that have reached thousands of high school students to their education resources for teachers. Your gift to the Federation Annual Campaign supports their work, and it helps send teens on a remarkable program called March of the Living – a two-week journey to Poland and Israel where they become the next generation of witnesses. Your Annual Campaign gift offsets the cost by $2,000 for each participant and provides staff resources, program leader training and participant education.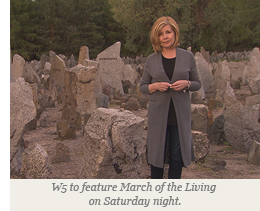 March of the Living will be the topic of the full episode of W5 tomorrow evening. You can watch a preview here. Sandie Rinaldo, anchor for CTV News, joined the Canadian delegation on March of the Living this past spring. The W5 program airs this Saturday, October 15th at 7:00 p.m. on CTV and at 10:00 p.m. on CTV2. The earlier airing is before Shabbat ends, so you may wish to set your PVR in advance. Holocaust survivors featured are Nate Leipciger and Bill Glied from Toronto and Angela Orosz from Montreal. Two students are also featured in the special.
I am so proud that this program, so long supported by our Federation, will be given such high profile and will reach so many people. As you watch W5, know that you have played a role in making the March of the Living experience possible for more than 100 teens from our community.
There have been pivotal moments in our history when we have looked around and questioned what has become of our world. On Yom Kippur we read the Torah portion about Aaron and the loss of two of his sons at hand of G-d. As a new father to twin boys, I cannot even imagine how difficult it must have been for Aaron to go on after losing not one but two of his children. When tested, Aaron showed strength, perseverance, leadership, and a belief in the importance of our connection to one another and to G-d. In other words, he saw the bigger picture. This Shabbat is a perfect time to think about what the bigger picture looks like and how we can channel the challenges around us to do good in our community and for our community.
Shabbat shalom and chag sameach.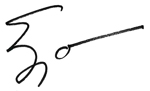 Ezra S. Shanken
CEO, Jewish Federation of Greater Vancouver