This message has 809 words and will take about 4 minutes to read.
The more things change, the more they seem to stay the same.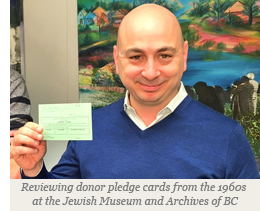 Just before Yom Kippur I had the pleasure of touring the Jewish Museum and Archives of BC (JMABC), one of the partner agencies whose work you support with your gift to the Federation Annual Campaign. It is one of the vital Jewish organizations in our community that relies on funding from the campaign, as well as generous gifts from their donors. The JMABC plays a tremendously valuable role in our community: they collect and share the story of 150 years of Jewish life in this province.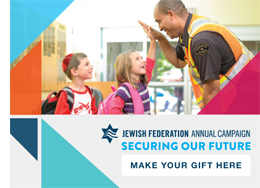 While I was there I looked at some of the pledge cards our canvassers used with donors in the 1960s. One of the things that struck me was how much smaller they were then, just little 4"x 6" notecards, as opposed to the doubled sided 8.5" x 11" sheets they are today. What was once an opportunity to give within the local community is now a gift that spans the globe. What has stayed the same is the name of the canvasser on the card, signifying the commitment our volunteers make to serve our community. Today, we have hundreds of canvassers, and they are the backbone of our campaign. What was then half a box of note cards per year, has evolved into a campaign supported by thousands of donors. What has stayed the same is that it is still, at its essence, one person asking another to help their community.
Holding these cards in my hands and seeing the notes on the back that canvassers wrote about how they could best get resources to the community was very moving. It's the same work we do today. I also saw how some of the more modest gifts came from people who are now the matriarchs and patriarchs of our community's biggest philanthropic families. It's a wonderful reminder that every gift counts, and that what's important is that you start supporting community today with any amount that is meaningful to you. After all, we're all in this together.
You will always hear me extolling the virtues of collective giving, in part because it helps many incredibly important Jewish organizations that may not have adequate resources to fundraise solely on their own. Many times our canvassers hear from donors that they wish to give directly to organizations, and to that I say great! – so long as you also give collectively. One way to support the organizations you care most about, while at the same time supporting the needs of the entire community, is through our Plus Giving program.
You can direct 75% of your new gift or 75% of the amount by which you increase your gift directly to the Jewish organization or program that is closest to your heart. And this year, that commitment will go further, because it will be matched by a group of generous donors, with the matching amount supporting community security initiatives. It's a win-win-win situation.
Another of the programs you support with your campaign gift is PJ Library. It's one of the best programs we have at the moment to reach unaffiliated families with young children and provide them with low barrier opportunities to connect Jewishly. PJ Library sends high-quality Jewish children's books to families for free every month, giving parents and grandparents the opportunity to make bedtime a moment of Jewish connection. We have 830 local children registered in the program, but demand constantly outstrips the available funding and we find ourselves continually working to clear the waiting list, so more children aged six months to eight years old can start receiving books. We just cleared it a couple of weeks ago and already there are almost 30 new applicants on the waiting list. If you're interested in helping ensure that every child gets books, reach out to me.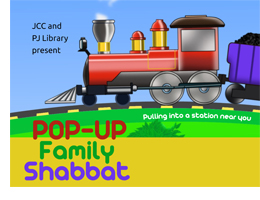 Lissa Weinberger, our manager of Jewish education and identity initiatives, has also been hard at work on a new Pop-Up Shabbat program. With their first event in Yaletown a big success (which was attended by my wife, Rachel and our boys), PJ Library Pop-Up Shabbat will be coming to a neighbourhood near you over the next several months. Scheduled for the fourth Friday of every month, the goal is to bring Jewish programming to areas beyond the Oak Street corridor in an effort to connect young Jewish families. You can expect to see these popping up at UBC, Trout Lake, and in regional communities like North Vancouver, where the next event will take place on October 28th.
One last note: as part of our outreach efforts to reach Jews living in regional communities, we are hosting a meet and greet in Maple Ridge this Sunday afternoon, where you can meet Orly Naim, our new manager of community development. Click here for details.
Shabbat shalom and chag sameach.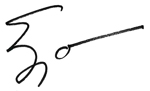 Ezra S. Shanken
CEO, Jewish Federation of Greater Vancouver