This message has 767 words and will take about 4 minutes to read.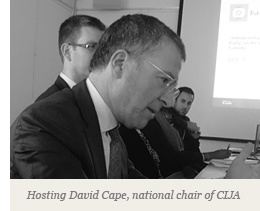 One of the highlights of my week was hosting David Cape, national chair of our advocacy partner, The Centre for Israel and Jewish Affairs (CIJA). At a breakfast meeting he recounted his experience of traveling to the funeral of Shimon Peres z"l alongside Prime Minister Trudeau, former prime minister Jean Chretien, Foreign Affairs Minister Stéphane Dion and Opposition leader Rona Ambrose. He was clearly moved that CIJA was asked to represent the Canadian Jewish community at this important moment and that the Jewish community plays such a significant role in the minds of these elected officials. It certainly says something powerful about how hard CIJA works to build these relationships on behalf of our community.
Whenever there is a new change in government it can be a real challenge on the advocacy front, and our investment in CIJA and the work we do together makes a huge difference. It was very reassuring not only to see such a strong Canadian delegation attend the funeral, but to see the Prime Minister visit Auschwitz earlier this year, accompanied by a survivor and a rabbi. We are so proud of our strong partnership with CIJA and so appreciative of their efforts to build relationships and advocate for the things most important to us and to our community.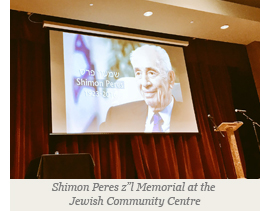 I, along with our Board Chair, Stephen Gaerber, had the privilege of representing Jewish Federation at our community's memorial for Shimon Peres z"l Thursday evening to remember this titan. What many people remember of him today is the last part of his journey as President of Israel, but he dedicated his life, decade after decade, to public service.
At the memorial I shared our chair of Israel and Overseas Affairs Committee Karen James` memory of meeting Shimon Peres z"l. Karen is currently attending the Jewish Agency board of governors meeting in Israel. In 2010 she traveled to Israel on a Federation mission. She was invited to share her personal story of competing at the 1972 Olympics in Munich and her close brush with the terrorists who murdered 11 Israeli athletes. "There was a bit of confusion at the time as to how long I was to speak for. I started out by saying I had been a participant at the 1972 Olympic Games in Munich and was interrupted by the President when he asked if I had won a medal. He was injecting humour as a start and there were a few laughs as I said, "Unfortunately not." I remember thinking, he has no idea where I am going with this story. As I started to elaborate and tell him and the others about being at Munich, about climbing the fence with the terrorists and what I saw and witnessed the next day he grew quiet and very solemn. I could see he was watching me intently. When I was done, he said quietly to me that he was very touched by my story. We then did the Shehecheyanu and toasted wine glasses and I could see him watching me. I will never forget that meeting or encounter with President Peres. I appreciated his kindness, his warmth, his sensitivity and yes, his humour. It was such an honour and a privilege for me to have been able to stand there with him telling my story and doing the blessings."
Rabbi Dresner of Or Shalom also spoke at the memorial, and her words were truly beautiful. One observation she made that struck a chord with me was: "When the microphone was on President Rivlin, and he asked for forgiveness, and for the moment when the attention of the world was on Mr. Peres' daughter and she said Kaddish and added "v'al kol ha-olam," we had an opportunity to see that both the Jewish past and the Jewish future were united at that grave." Our Federation was honoured to partner with the Jewish Community Centre to put on this event to celebrate his remarkable life, his inspirational achievements and his eternal optimism. I would also like to thank Rabbi Rosenblatt and the four ShinShiniyot for participating, and a special thanks to Geoffrey Druker for moderating.

I will be making my way to Israel on Monday to take part in our partnership meetings. I'll update you on our work there next Friday. In the meantime, I want to leave you with a couple of dates to get on your calendar if you're Israeli and need consular services. On December 4th and 5th, Jewish Federation, in collaboration with the Consulate General of Israel in Toronto, is facilitating the visit of a consular representative to handle consular service requests that require an in-person meeting. Click here for more information and to learn how to book an appointment.
Shabbat shalom.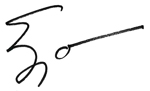 Ezra S. Shanken
CEO, Jewish Federation of Greater Vancouver