This message has 1,012 words and will take about 4 minutes to read.
"I found a fruitful world because my ancestors planted it for me. Likewise, I am planting for my children." – Talmud, Taanit 23a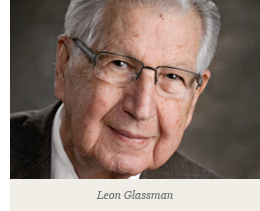 I am very proud to announce that Leon Glassman has created a legacy that will benefit generations to come by establishing The Leon Glassman Fund for Jewish Continuity through Education at our Jewish Community Foundation. This million dollar gift reflects Leon and Rose Marie's long standing support for Jewish education in our community, their commitment to ensuring Jewish continuity, and their passion for making a lasting difference through tzedakah.
Having grown up in a small town in Saskatchewan that lacked Jewish educational options, Leon developed an appreciation of what a privilege it is to be a student in an immersive Jewish learning environment, and how important it is to many parents for their children to have that opportunity.
"As a child," he says, "I had a very limited Jewish education so it was always important to me that my children would know their background and have a Jewish identity… We wanted our children to know the history of their people so they could learn who they are. We wanted them to know their own identity so they didn't grow up believing what others told them. We wanted our children to develop a pride in their ancestry…."
Our Jewish Education Task Force identified affordability as one of the primary issues facing all the Jewish day schools: King David High School, Pacific Torah Institute, Richmond Jewish Day School, Shalhevet, Vancouver Hebrew Academy, and Vancouver Talmud Torah, and this fund will help students at all these schools.
The high cost of living on the Lower Mainland is having a direct impact on the ability of many families to provide their children with a Jewish education. More and more families – including middle income families – need our help to send their kids to Jewish day school and to pay for things like uniforms. The need for tuition assistance has grown so much that the available funding just hasn't been able to keep up. Schools and families are crunched, and children are caught in the middle. You can read the Jewish Education Task Force Report here.
Leon and Rose Marie recognized that before we can effectively address the other issues that are also impacting Jewish education we have to make a dent in affordability. At a time when all schools are seeing an increase in the number of families who cannot pay the full fee for their children, this fund – and those who are inspired to strengthen it – will go a long way to making Jewish education a viable option for more families. Kol hakavod to Leon who said not on my watch, and refused to sit by while families and schools are strained in this way.

We are deeply grateful that Leon is among those who have chosen to create their legacies at the Jewish Community Foundation, our endowment program. With $48 million in assets under management and more than 300 individual funds, the Jewish Community Foundation is the central address for planned giving in our community.
In establishing this fund, it is Leon and Rose Marie's wish that many of you will join them and contribute to their fund or establish your own, so that you will make your own mark on Jewish education. In this sense they intended for their fund to inspire the tzedakah of others. You can contribute to the Leon Glassman Fund for Jewish Continuity through Education, or even establish your own fund (It's easier than you might think.) by contacting Marcie Flom in our office at 604-257-5129. Of course, the Federation Annual Campaign provides considerable funding for Jewish Education, and a great way to make an impact is by making a generous gift to the campaign.
As part of his commitment to improving Jewish education across our community, Leon Glassman served on the board of Vancouver Talmud Torah in the 1960s and spearheaded construction of what back then was the new wing of the school. Now, the school has expanded again, giving us all reason to celebrate our thriving community and the culmination of one of the biggest capital projects our community has ever undertaken: the opening of the new VTT campus. And times being what they are, they've created a video inviting community members to their mezuzah ceremony on September 25th.
When we contribute to a major community project, such as a capital campaign for a new school or synagogue, when we establish an endowment fund, or when we commit to an annual campaign year after year, we help not just those around us today, but those who will come after us. At some point in the future, someone will look back and be moved to improve upon what we have started.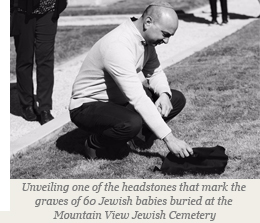 That's exactly what Shirley Barnett did when she started the Jewish Restoration Project at Mountain View Cemetery in 2012 with the backing of The Schara Tzedeck Cemetery Board. Cemeteries are a glimpse back in time and window through which we can view what life was like for Jews here more than a hundred years ago. Under Shirley's leadership, the project has been a tremendous success, restoring not just the Jewish section of the cemetery but an important part of our past.
For me, one part of this project that made me very emotional was the unveiling of the headstones that mark the graves of the 60 Jewish babies buried there. It is said that the greatest mitzvah you can perform is to give someone a proper burial, because it is an act for which you can never expect reciprocation. This week I was honoured and moved to take part in the unveiling of the headstones of these little ones.
There's no better opportunity to think about the future than when we have just examined our past. This Shabbat is the perfect time to reflect on what we can do today to leave a better world for the generations that come after us.
Shabbat shalom.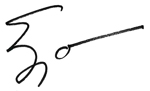 Ezra S. Shanken
CEO, Jewish Federation of Greater Vancouver
P.S. I look forward to seeing you at FEDtalks next Thursday. Please call our office or buy your tickets here.