This message has 1062 words and will take about 4 minutes to read.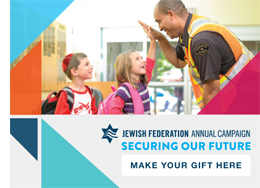 Here we are on the Friday afternoon of a long weekend, and with Shabbat starting earlier and earlier it feels like a natural time to start winding down. This is a tough week for me to switch gears, but I suppose that's when you need it the most. Just yesterday we launched the Federation Annual Campaign, so all of us in the office are feeling the buzz and excitement that comes along with the start our community's biggest fundraising effort. Our canvassers have begun to reach out, so I hope you will answer the call. (Double entendre intended.) Thanks to some of our most generous donors, who understand the importance of making their gifts early, we are off and running. Please don't wait to make your commitment. As we approach Shabbat, it's the perfect time to give tzedakah.
The theme of this year's campaign is security. We think of security in a number of ways – whether it's securing Jewish connections for the thousands of Jews who live in regional communities and don't have easy access to Jewish communal life, or securing essentials like groceries and affordable Jewish childcare for young families squeezed by the high cost of living. We're securing opportunities for at-risk youth in our partnership region in Israel by providing them with skills training and leadership development programs. And we're securing the future of our community here at home through our efforts to engage young adults in ways that develop them into our next generation of leaders.
There's also the very literal meaning of security, which as Jews we've (sadly) grown accustomed to having to consider. For us it's about being proactive and staying ahead of the curve. It's never a fun subject to talk about, but the reality is we need to evolve how we support community security and develop a more comprehensive approach that keeps our community's institutions safe and gives the people who use them peace of mind. I don't see this as something scary, it simply makes sense to keep improving the preventative measures that benefit every organization and every person in our community. Our partner agencies rely on stable funding from the Federation Annual Campaign, and it's natural to fund ongoing security needs this way.
Our Federation, from the board room table to the front line staff, is committed to leading the way on this. Last fall we established a Community Security Advisory Committee, which is chaired by Bernard Pinsky, a past president of our Federation. We are very fortunate to have a number of community members with expertise in this area, and in a couple of weeks I'm going to devote a Shabbat Message to the important work they've been doing. But right now I want to announce our security match program. Every donor who makes a new or increased gift to the campaign will see their gift (or increase) matched, with the matching amount allocated to community security. I would like to extend my deep gratitude to the group of generous donors who funded this match, and to Alex Cristall, our campaign chair, and his family who led the way.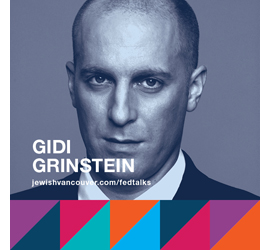 Introducing Gidi Grinstein
What a privilege it is to be able to introduce you to FEDtalks presenter, Gidi Grinstein, with whom we've been working for over a decade. Gidi is one of the most dynamic, energetic and innovative people I've ever met. He's one of those rare people who isn't just a big picture thinker, he's a big picture doer. A lot of folks set out to change the world, but Gidi's on that elite shortlist of individuals who actually are changing the world. Small, progressive change isn't what drives him. He focuses on large scale change that affects entire communities and thousands of lives.
The first thing you need to know about Gidi is that he was the youngest member of the Israeli delegation to the 2000 Camp David Summit. I did the math and he had just turned 30 years old. So, you know, kind of a go-getter, a bit of a high achiever – and I mean that as the highest possible compliment.
He went on to found The Reut Institute, an independent Israeli think tank that looks at how to solve problems in a creative way. One of their focusses is on a methodology called "regional leapfrogging" that transforms disadvantaged communities by creating the right conditions in which major economic drivers can create rapid yet sustainable change. One example that both Reut and our Federation are involved in is the Bar-Ilan Faculty of Medicine in the Galilee a.k.a. the big new medical school in Tsfat. Many of our leaders have had an opportunity to visit the medical school and see the very real impact it is having. Reut looks at how to ensure a big driver like this medical school actually lifts the whole region up. Gidi understands that success on this scale isn't reliant on one silver bullet, but that it takes a holistic approach to change community for the long term.
This is the essence of the work we do in Northern Israel, and it is some of our most important, most transformational work. Much of what we do in our Upper Galilee partnership region is centered around leveling the playing field and ensuring that everyone gets the opportunity to succeed.
The big question, of course, is why? Think about it this way: it only takes two hours to drive from Tel Aviv to Kiryat Shmona, but life expectancy is two years lower there. That's disadvantage in a nutshell. Combine that with how difficult it is in Israel to move up out of the socio-economic stratum into which you were born, and the picture begins to take shape. We don't want a perpetual underclass in Israel's periphery, so we are changing the way that communities are built and operate. From my time at Federation in New York, in Colorado and now in Vancouver one of the things that has been a constant is Gidi's involvement in our work. I look forward to his sharing more of that with you in his FEDtalk. Buy your tickets today and join us.
Shabbat shalom and happy Labour Day.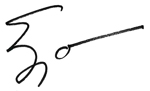 Ezra S. Shanken
CEO, Jewish Federation of Greater Vancouver