This message has 783 words and will take about 4 minutes to read.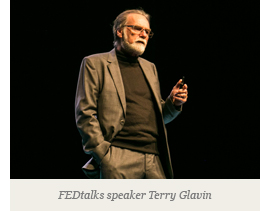 Wow, what a night! FEDtalks was another hit, with hundreds of people getting together to celebrate community, launch our Annual Campaign, and, of course, hear from four absolutely phenomenal presenters. There are some great photos on our Facebook page.
Thank you so much to those of you who joined us. If you weren't able to make it, please know that you were missed. Hopefully, you were following along as we live tweeted the event with the hashtag #YVRFedTalks.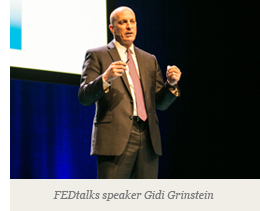 We heard some amazing things from the stage. Here are just a few of my favourite quotes:
"As everyone knows, there are five strains of Judaism: there's Reform, Conservative, Orthodox, Ultra-Orthodox… and Irish Catholic." – Terry Glavin on the root of his connection to the Jewish community.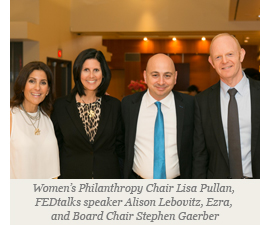 "Turning cultural and religious diversity into a model for economic development." – Gidi Grinstein on his work (and ours) to bring greater prosperity to Northern Israel.
"If you believe in Federation, you believe in this concept of family." – Alison Lebovitz on the power and strength of Jewish community.
"In many ways I feel that I am at the start of my Jewish journey." – How Randi Zuckerberg opened her FEDtalk.
We were also very privileged to have the State of Israel's highest ranking representative to Canada, Ambassador Rafael Barak, and his wife Miriam, with us last night. Ambassador Barak spoke at the pre-event reception we held for our major donors, and talked about the five "mems" (as in the Hebrew letter mem) that characterize us as a people and as a community: masoret (tradition), moledet (homeland), mishpacha (family), mussar (morals), and medina (country).
I would also like to acknowledge the exceptional contributions of our leadership who spoke last night: Stephen Gaerber, chair of our Board; Alex Cristall, chair of the Annual Campaign; Lisa Pullan, chair of Women's Philanthropy; Bryan Hack, vice chair of young adults, and Karen James, chair of our Israel and Overseas Affairs Committee. And of course all of our Federation staff, in particular Michelle Pullan, our campaign director, and Becky Saegert, our marketing and communications director, and their teams, who were instrumental in putting this event together.
I closed the evening with remarks about how warm such community gatherings make us feel. At the end of the day, community is made up of individuals who each make a commitment to participate. That's true whether we're talking about a community event or a fundraising campaign that benefits thousands of people.
Speaking of the campaign, we are off to a very strong start under the leadership of campaign chair, Alex Cristall. We still have a long way to go, but so far we have raised $ 2.96 million and $ 282,000 for our security match. If you don't already know about the security match, let me fill you in.
Community Security is one of five areas of opportunity that we are addressing through our 2020 Strategic Priorities in order to meet the challenges ahead for our community. The others are affordability, accessibility, our growing seniors' population, and engagement of key groups like young adults and young families. For years, we have addressed the specific security needs of individual organizations. Now, our focus is shifting to the implementation of a long term approach to community security and safety.
This year, every new gift and every increase will be matched to fund community security initiatives. This has been made possible by a group of generous donors who have funded this security match.
Many thanks to those of you who have made your gifts early and helped us generate momentum. It's so important. If you haven't yet made your gift, now is a great time, as Shabbat approaches.
Before I sign off, there are two updates I want to pass along from our advocacy partner agency, The Centre For Israel and Jewish Affairs (CIJA).
First, each year, CIJA honours the memory of renowned Israel and Middle East scholar, Barry Rubin, whose analyses and consultations over many years proved invaluable to us and to the broader public. The 2017 Barry Rubin Prize Essay Competition presents university and college students with the opportunity to win $500 for submitting an essay on Israel and Middle East issues. Click here for details, and then please share this with the post-secondary students you know.
Second, with the High Holydays just over a week away, there is something positive that we each can do, which is buy Israeli wine. As you shop, please think of adding Israeli wine to your cart and table. By doing this you are supporting businesses that carry Israeli wine, while at the same time helping create an economic environment in Israel that people can benefit from.
Shabbat shalom.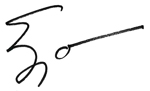 Ezra S. Shanken
CEO, Jewish Federation of Greater Vancouver