This message has 1,123 words and will take about 4 minutes to read.
I love this time of year. Not just the holidays themselves, but even the shopping, cooking and preparation. Full disclosure: while I do play a role in the cooking, my wonderful wife, Rachel, deserves the credit for the vast majority of what it takes to make the New Year sweet. What really warms my heart is seeing the ingathering of the community to celebrate what it is to be Jewish.
Earlier this week, we heard the very sad news of the death of Shimon Peres z"l, and earlier today he was laid to rest. Amongst the family, friends and world leaders who attended his funeral were several Jewish Federation leaders who offered their condolences on behalf of our organization. Rather than try to write about this great man and risk not doing justice to his memory, I would rather leave you with the words and reflections of Bill Clinton, who delivered one of the eulogies today, and of Ambassador Rafael Barak, who served as chief coordinator of the Oslo peace talks.
Rosh Hashanah is a time of endings as well as new beginnings. In that spirit, I bring you news of six wonderful young people from Israel, some of whom we have just said goodbye to, and some we have just welcomed.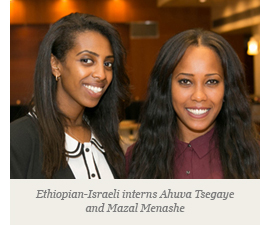 A few days ago, we bid lehitraot to Ahuva and Mazal, two Ethiopian-Israeli students from one of the most prestigious universities in Israel, The Interdisciplinary Center (IDC) Herzliya, who were here as part of an international internship program called Israel at Heart. Every two years we arrange for two such students to live in Greater Vancouver with local families and gain work experience with local firms in their chosen fields. This year it was operational management for Ahuva, who shadowed me for a day and worked at at a variety of businesses and organizations; and law and government for Mazal, who interned at Farris, Vaughan, Wills & Murphy. Our deepest thanks to everyone who played a part in helping them gain new knowledge and new experiences. These internships give the students an edge in finding top positions in their field following graduation. We wish them all the best as they continue their studies back in Israel and prepare to embark on their careers.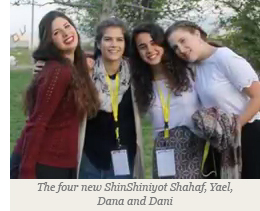 For four recent high school grads, this Rosh Hashanah marks not only the start of the Jewish New Year, but the start of a year of service far from their homes and their families. Just a few weeks ago, we welcomed these four new ShinShiniyot, emissaries from Israel, who are here on a gap year program before starting their military service. Allow me to introduce you:
Dani Favel, whose parents made aliyah from Scotland and Australia, is from Kibbutz Kadarim, in our partnership region of the Upper Galilee. In her high school she majored in music and biology, and was part of the parliament and environmental committees.
Shahaf Shama is from Kibbutz Hazorea in Northern Israel. She comes from a large, close family including three younger siblings and many first cousins, all of whom live on the kibbutz. She loves to read, dance, ride horses, and cook Moroccan and Iraqi food.
Dana Salmon is from Ma'ale Adumim, near Jerusalem. She loves singing, playing guitar and modern dance, as well as taking pictures and videos. She is very involved in Scouts, where she works closely with children with special needs.
Yael Miller is from Modi'in in Central Israel. This will not only be a year away from her ima, abba and two sisters, but also her two pet turtles! She loves to cook and is looking forward to trying lots of new foods as she explores Vancouver.
I had the pleasure of having lunch with Dani, Shahaf, Dana and Yael when they arrived. The depth of conversation we had made me proud of Israel's young people. They understand the complexity of Israel: that it is a beautiful place, a difficult place, a holy place. They spoke so candidly and eloquently about what it is to be a young person growing up in Israel with all the challenges and blessings that come along with that.
The ShinShin program is exceedingly difficult to get into, and you really have to be an exceptional candidate to be accepted. These young women are the best of the best, and they represent the future of Israel. Please help make their year in Vancouver one in which they feel embraced. If you want a concrete way to do that, have them over for Shabbat dinner. Email me and I'll set it up.
While they're here these young women will see with fresh eyes the challenge of building Jewish community in the diaspora. One of the great things about our Gesher Chai (Living Bridge) program and the people-to-people relationships that are built through the work of our Federation, is that the rewards are both local and global. We're not just sending money to Israel for the benefit of Israelis – we're investing in ways that benefit our community, too. The ShinShiniyot coming here enhances our experience, builds relationships and understanding for our kids, and it has an impact in our community and theirs back in Israel when they return. The double advantage is one of the many things we consider when we make decisions about to how we invest strategically in programs and what that ROI looks like.
We're still looking for host families for these great girls, so if you are interested, please be in touch with Lissa Weinberger. Our Gesher Chai Committee chair, Pam Wolfman, spoke with someone recently who remarked that hosting a ShinShin emissary was a transformative experience for her family in terms of their Israel engagement.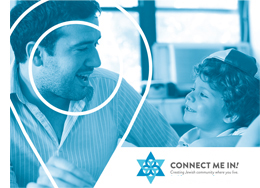 Closer to home, our Regional Communities Task Force has been hard at work following up on the almost 400 Connect Me In surveys that were completed when we reached out to the nearly half of our community who now live outside of Vancouver proper. We have also followed up with 100 survey respondents by phone. The committee has heard loud and clear that people want to connect with other Jews in their local area and have access to Jewish cultural, social and educational programming.
A series of informal meetings in a variety of locations including Abbotsford, Maple Ridge, Squamish, Burnaby/New Westminster and the Tri-Cities is being planned. If you would like to learn more about the Connect Me In initiative or participate in an upcoming meeting, please contact Orly Naim our new manager of Community Development. She would love to hear from you.
I'll be making the rounds at many of the synagogues across our community during the High Holydays and I look forward to wishing you a shana tova in person.
Shabbat shalom and shana tova u'metuka.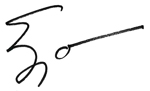 Ezra S. Shanken
CEO, Jewish Federation of Greater Vancouver