This message has 805 words and will take about 4 minutes to read.
Last week we said that we couldn't fit everything into one Shabbat Message, and we are ready to pick up where we left off.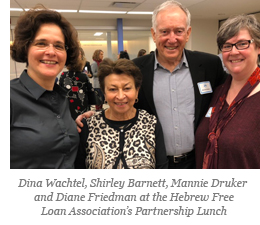 Two events took place last week that we want to circle back on, the first of which was the Hebrew Free Loan Association's (HLFA's) Partnership Lunch, where the leadership and staff of various communal organizations learned about HLFA's programs and the benefits of interest-free lending for both the borrower and the community. The work they do is often done quietly to preserve the dignity of loan recipient, but boy does it add up. Last year HFLA provides loans for things like debt relief, life cycle events, adoption and fertility treatment, and other expenses like security deposits. If you or someone you know needs a loan, HFLA is there to help. We look forward to writing more about their great work on Shabbat Mishpatim.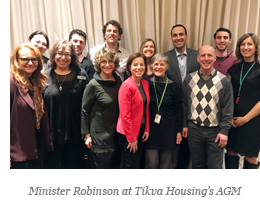 The second was our partner Tikva Housing's AGM, at which The Honourable Selina Robinson, Minister of Municipal Affairs and Housing and MLA for Coquitlam-Maillardville, spoke about the importance of partnerships in dealing with the housing crisis. A community member who has been helped by Tikva Housing also spoke at the meeting, and it was extremely powerful. Determined to raise her son in a safe environment, she fled successive abusive relationships in search of a safe, stable home. It wasn't until she connected with Jewish Family Services (JFS) and Tikva Housing that a long term solution could be established. Now that she is connected with our community, she and her child are flourishing - and that is something of which we can all be proud.
As with so many people who find themselves in need of help, that help came from more than one organization. In this particular case, the family also received camperships, subsidies for Jewish educational programs, and invitations to synagogue Shabbat dinners and High Holiday services. Now this family is also on the list to move into the new affordable townhouse units under construction in Southeast Vancouver. She described it as their "fairy-tale ending."
The work each individual organization does on its own is important and impactful, but it is when they - and we, through our community planning and the Annual Campaign - work together that we have the greatest impact. In fact, Tikva Housing was just honoured with a partnership award from JFS. This family's experience is a great example of how organizations work together to make sure no one falls through the cracks.
As an organization, as a community, and as a People, we pull together to help individuals in crisis, and we do the same for communities in crisis. Never was that more evident than when tragedy struck in Pittsburgh.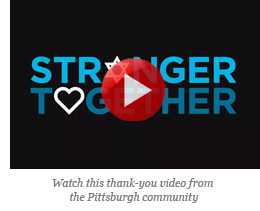 Local community members generously donated more than $15,000 through our Federation to help the victims of the Pittsburgh shooting and their families. We have been in touch with our counterparts in Pittsburgh and they are deeply grateful. Please take one minute and watch this thank-you video that they produced.
As you can imagine, the impact of the shooting goes far beyond the victims and their families, and touches the lives of every single community member and every community organization. Jewish Federation of Pittsburgh has established a second fund, the purpose of which is to strengthen resilience across their whole community. Our Board felt very strongly about directing a matching amount from our Emergency Relief Fund to help the Pittsburgh community, and this is the fund to which the matching funds will be directed. In this way our community will be able to help in both areas.
Our Board also directed support from our Emergency Relief Fund to communities in California that were affected by the major wildfires, approving $15,000 to be directed to Jewish Federation of Greater Los Angeles (JFGLA), the organization that is taking the lead. As you may know, three Jewish summer camps have burned to the ground and need to be rebuilt for summer 2019. As well, a Jewish day school was destroyed. These funds will be applied to JFGLA efforts with counselling, financial and legal assistance, and relief funds for individuals, families and institutions directly affected by the circumstances faced in the affected areas.
As we wind down our Annual Campaign, we are continuing to reach out to donors who have supported our community through the campaign in past years. The campaign total currently stands at $7.7 million and we are hopeful that we will close with an increase over last year. You can still make your commitment or fulfill a pledge you made recently by clicking here or by contacting our office at 604.257.5100. When you pay your pledge by December 31st you will receive a 2018 tax receipt. If you haven't yet paid your pledge, now is the time. If you already have, we thank you!
Shabbat Shalom.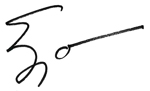 Ezra S. Shanken
CEO, Jewish Federation of Greater Vancouver
P.S. If you're a podcast lover, click here to subscribe to the podcast version of the Shabbat Message using your favourite app.