This message has 850 words and will take about 4 minutes to read.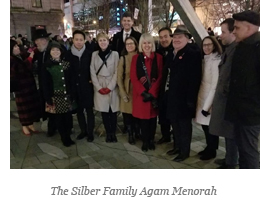 "Be the shamash and bring light to those around you throughout the year." That was the message delivered by Karen James, our Board chair, when she was invited by Chabad BC to light the fifth candle of the Silber Family Agam Menorah last night. It's also a message that guests at our Spark a Mitzvah events have taken to heart.
Spark a Mitzvah is a series of events for women in our community who typically make a donation in lieu of an admission fee. Their donations spark a mitzvah by funding Shabbat dinners for the residents of Yaffa House and the Dunbar Apartments, a supportive housing environment for people living with mental illness. The events are organized by our Lions of Judah - women who give $5,000 or more each year to the Federation Annual Campaign - but they are open to all women.
The most recent Spark a Mitzvah event funded a Shabbat dinner for 27 guests, and some of the Lions and their children helped with the preparations. Leamore Cohen, the JCC's coordinator, inclusion services, said they "began the program by asking residents and guests to name one thing they felt gratitude about. Most said the Shabbat dinner and of course having a roof over their heads." She also told us that "the residents were overjoyed to have new guests. Many said that it was the best Shabbat they had ever attended."
Speaking of Shabbat, in partnership with the Centre for Israel and Jewish Affairs (CIJA), Karen hosted dinner at her home last Friday for Vancouver Mayor Kennedy Stewart and his wife, Dr. Jeanette Ashe. Informal dinners such as this are one way elected officials get to know more about our community and our traditions while building relationships with key volunteer leaders, including those from CIJA, CJPAC, Hillel BC, Louis Brier Home and Hospital, and the JCC. Our Federation was represented by Karen, of course, and also by Alex Cristall, our vice chair; by Board members Eric Bulmash and Penny Gurstein; by Geoffrey Druker of our Israel and Overseas Affairs Committee; and by me.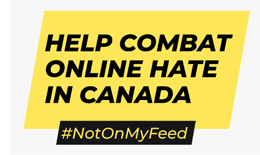 And speaking of CIJA, we want to bring your attention to their action alert calling for the Government of Canada to launch a national strategy to combat online hate. If we raise our voices together, we can preserve free speech while protecting Canadians. Click here for more.
We care deeply about our extended Jewish family, and we feel especially connected to the residents of our partnership region in Northern Israel. On Tuesday, they received notices from their municipalities that an attack tunnel had been dug into Metulla's western border with Lebanon. So far, the IDF has destroyed one Hezbollah tunnel, which was 650 feet long, 80 feet deep, six feet tall and six feet wide. The tunnel started in a home in southern Lebanon and continued for approximately 130 feet into Israeli territory (see a map of the tunnel here). According to the IDF, the tunnel, which took two years to build and had working electricity and an oxygen supply, was not yet fully operational, and did not yet represent an immediate threat to residents in the area.
Eran David of our Israel office reminded us that at our December 2014 Coast-To-Coast Joint Steering Committee meeting, we had a security briefing by an IDF intelligence officer during which the question of the existence of these tunnels came up and was discussed at length but not in detail. Four years later, the facts are clear: Hezbollah has been busy digging these attack tunnels into Israel. We hope that IDF is successful in identifying and destroying all of the tunnels.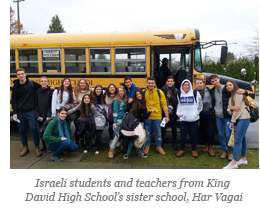 There is happy news from the region, too. Part of our work is building people-to-people relationships between residents of the Upper Galilee and local community members. Students and staff of King David High School are currently hosting 17 Israeli students and three teachers from their sister school, Har Vagai. It is the largest delegation ever hosted by King David, and we hear it has been an outstanding mifgash.
That's the note we want to end on today: How a group of young people and their teachers can come together and build lasting relationships despite the geographic, and even cultural, distances between them. Although the students have returned to Israel, the lights of Hanukkah and Shabbat will connect them tonight and be a reminder of the beautiful traditions that bind us no matter where we are.
Shabbat Shalom.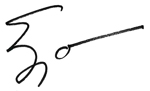 Ezra S. Shanken
CEO, Jewish Federation of Greater Vancouver
P.S. If you're a podcast lover, click here to subscribe to the podcast version of the Shabbat Message using your favourite app.