This message has 737 words and takes about 3 minutes to read.
It's the time of year when many people are taking vacations to enjoy the last couple of weeks of summer, but it's a busy time here at Jewish Federation. Before we know it, August will draw to a close and September 1st will be upon us. Around here that means one thing: the Federation Annual Campaign is about to launch.



Our teams have been busy putting together material for nearly 300 volunteer canvassers who take on the important task of calling and meeting with community members about their gifts. Volunteer canvassers represent the full diversity of our community, and many are so committed that they have volunteered for 10, 20, and even 30 years. It is through their calls and meetings that thousands of donors complete the mitzvah of tzedakah. If you are looking for a meaningful volunteer opportunity, contact us. We'll answer any questions you have and get you set up. It's a great way to make our community – your community – stronger and more vibrant.

We are a volunteer-led organization, and we are extremely fortunate to have some of the most talented and committed community members engaged in our work. And behind every great team of volunteer leaders is a group of dedicated Jewish communal professionals.

For quite a few of us, this work is more than a job – it's a calling. We continue to be inspired by the same experiences that drew us to the work initially. Typically, these experiences took place within the community, and quite often Jewish Federation was involved in making them possible. For some it was their time in a youth group or at summer camp; for others, it was an organized trip, such as Birthright Israel or March of the Living. Regardless, the effect lingers.

I'm a third-generation Jewish communal professional, but that's not the norm. People come to this work from different paths, including the corporate world, academia, government, social work and other areas. Ensuring that Jewish communal professionals have the tools and support they need to excel is important because ultimately it benefits our community as a whole.

We are in a unique position in that we have counterparts across the continent who do similar work with whom we share knowledge and best practices. That helps communal professionals grow their skills and expand their networks. It also helps leaders in organizations like ours inspire and retain staff who are committed to building a stronger, more resilient, and more vibrant community day in and day out.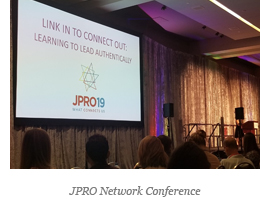 I serve on the Board of JPRO Network, which brought together 600 Jewish communal professionals last week to educate, inspire, and empower. We were pleased to invest in the professional development of Nico Slobinsky, director of CIJA-Pacific Region, our advocacy partner; and Hannah Yerington, the community outreach worker who is engaging Jews across the region through our Connect Me In program. We write a lot about their work in this message because their roles are central to how we serve this community.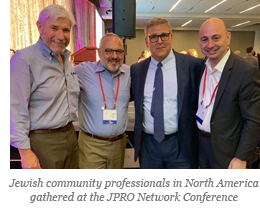 One of the things that stuck with me from this conference was what Rabbi Elka Abrahamson, president of The Wexner Foundation, said when she and Jerry Silverman, the former president and CEO of Jewish Federations of North America, received The Ben Mandelkorn Distinguished Service Award.

She spoke about the role of women in leading an increasingly complex Jewish world and recounted the story of Miriam packing timbrels in preparation for fleeing Egypt. Many say that Miriam packed the timbrels because she planned to use them to lead the women in celebration once they crossed the Sea of Reeds. Rabbi Abrahamson used this as an example of two styles of leadership. For some, leadership comes naturally and they are the first to jump in and take part. Others go about it differently and use "timbrels" to engage those around them. JPRO Network offers a number of ways for Jewish communal professionals to develop the tools and "timbrels" they need.

Whether we're supporting the professional development of Jewish educators in our community (as we do every year) or helping Jewish communal professionals gain new skills, it's all part of ensuring that we can serve community to the fullest in times of celebration and in times of challenge.
Shabbat Shalom,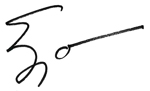 Ezra S. Shanken
CEO, Jewish Federation of Greater Vancouver