This message has 737 words and takes about 3 minutes to read.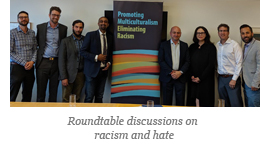 This past week, a number of communal agencies, including Jewish Federation, participated in series of roundtable discussions hosted by BC Parliamentary Secretary for Multiculturalism and Sport, Ravi Kahlon, on the topic of racism and hate experienced by minority groups in the province. It was an opportunity for representatives of our community to share with the ministry officials our concerns about rising antisemitism and dissemination of hate directed toward our community.

Our session started with a very powerful presentation by community member, Ginaya Peters, who shared her experience of having a swastika drawn in the snow in front of her home and how seeing that symbol impacted her family. She spoke eloquently about her experience and the support of local law enforcement. She also spoke about her disappointment that local law enforcement wasn't able to follow up due to the lack of a clear definition of antisemitism and hate in the current legislation.

The other speakers also reinforced this theme and the need for the provincial government to provide the necessary tools and resources to raise awareness and to strengthen enforcement and investigation procedures. We are very grateful that the provincial government is being proactive on this file and that they included our community in their consultations. Many thanks to the Centre for Israel and Jewish Affairs, Hillel, the Jewish Museum and Archives of BC, Congregation Har El, and the Vancouver Holocaust Education Centre, which played important roles in this session.

As you know, FEDtalks is coming up and we have curated an incredible lineup of speakers. Over the years, some of our most memorable speakers have been in their 20s or 30s, and you can expect that to be the case again this year.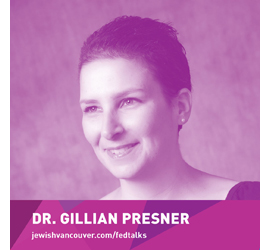 Today, we want to tell you about Dr. Gillian Presner, a member of the National Young Leadership Cabinet (NYLC), Jewish Federations of North America's elite leadership-training program for people aged 30-45.

In the wake of Hurricane Harvey, NYLC responded in a remarkable way. It started with NYLC members who were helping clean out the flooded Houston JCC. They posted photos to the NYLC Facebook group with lists of supplies the community needed. Michelle Hirsch, a NYLC member in Cleveland, combined the lists into an Amazon Prime wish list and posted it on Facebook. Then she turned in for the night.

When she woke up the next morning 30,000 items had been purchased! They got bleach, gloves and other necessities into the hands of those in need before other delivery services could reach the city.

That's the power of the National Young Leadership Cabinet.

Gillian Presner was at a crossroads in her life when she was invited to join NYLC. She thought long and hard about whether she should make the commitment to join. In the end there were things she wanted to accomplish – not for herself, but for others – and that drove her decision.

Gillian chose to help, to lead, and to create her legacy through the Federation movement. How she got there is something you need to hear about directly from her. You can still buy FEDtalks tickets at the early bird rate, but not for much longer. And, of course, you know from last week's message that it's free for the first 100 young adultsto register.

While we're on the topic of young leaders, many of our community's future leaders are having a fantastic time at summer camp. We are proud to support camperships at Camp Hatikvah, Camp Solomon Schechter, Habonim-Dror Camp Miriam, and the Sephardic Adventure Camp. This week and next, Camp Miriam will enjoy a visit from a delegation of youth movement members from our partnership region in Israel, which was made possible by support from our Federation through our Gesher Chai program. Many thanks to HaBonim Dror Shaliach, Elad Pelleg, for working with us to make this happen.

Summer camp experiences, student exchanges and other Jewish educational programs often set youth on the path to becoming the tomorrow's leaders. One day – probably sooner than we expect – today's young people will take centre stage at community events to share how they are making an impact. We know that a number of high school students and youth group members are planning to attend FEDtalks, and we hope it will play a role in inspiring their future leadership of our community.

Tonight, we aren't just celebrating Shabbat, we're celebrating Shabbat with Pride Colours for the third year in a row. We'll fill you in on the details of this sold-out event in next Friday's message.
Shabbat Shalom,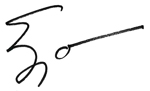 Ezra S. Shanken
CEO, Jewish Federation of Greater Vancouver