This message has 737 words and takes about 3 minutes to read.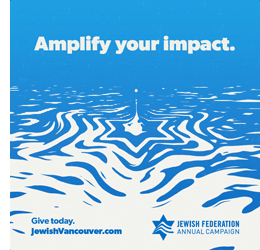 The Federation Annual Campaign launches Sunday, and you'll notice that the message is a little different this year. It's focused on how we amplify the impact of your gift.

Jewish Federation is the central address for building community. We plan strategically for our community's future. We generate the resources to meet community needs. And we develop the effective partnerships that create lasting change.

Together, we bring to life the value of l'dor v'dor – from generation to generation – by supporting our community and everyone in it through every phase of life: from subsidies for Jewish childcare, to programs that engage young adults in community life, to services that keep seniors active and connected.

Building the community of our future begins with a shared vision. That vision is of a community where everyone thrives – from young to old, from here to our partnership region in Israel.

This shared vision comes from our unique vantage point, which enables us to identify opportunities for our community years in advance. But we don't just identify those opportunities, we act on them.

Case in point: affordable housing. Fifteen years ago, we anticipated that families in our community would need affordable housing. Through our collaborative strategic planning process, we helped establish Tikva Housing Society. Today, Tikva is making a real difference for families and individuals, including seniors, who have been hit hard by the affordability crisis. Parents who would otherwise have been crushed by housing costs are now able to raise their children in safe, clean, stable homes.

We're paving the way in Israel, too. In our partnership region of the Upper Galilee residents have long struggled with poverty. But more than a decade ago, we identified the need, we saw potential, and we sprang into action. We invested early in tech education and others followed our lead. Recently, the Israeli government awarded a tender to an international consortium of venture capital groups to develop a food tech centre in the Upper Galilee; the centre will benefit residents of the entire region and position the area as a global hub for innovation.

So rather than giving to Jewish Federation, you're actually making a strategic investment in our community through Jewish Federation.

We can't do this work alone. Developing effective partnerships to get the work done is essential. Each of our partners specializes in important aspects of the work. Our role is to tie it all together.

This is how your gift creates a ripple effect throughout our entire community. And it's how we amplify the impact of your gift.

Each of us plays a part in building our community. Every gift - of any amount - is important. Every drop - big or small - creates a ripple. The more ripples we can create together, the more impact we can have in our community.

Over the next few days, many of you will receive a letter in the mail asking you to support our community. Many more of you will receive a call from your volunteer canvasser.

Hundreds of community members take time out of their busy lives to volunteer as canvassers. Some started this year. Others have been canvassing for up to 30 years. They come from all walks of life and from every corner of our community.

When a canvasser reaches out to you, please "answer the call." Canvassers give of their time generously because they care deeply about our community. Every year, they inspire thousands to complete the mitzvah of tzedakah – and that inspires change.

A successful Annual Campaign for our community wouldn't be possible without community members who step forward to lead. We would like to give some well-deserved kavod to the members of the 2019 Federation Annual Campaign Cabinet who serve our community:

Jonathon Leipsic – General Chair
Alex Cristall – Immediate Past Chair
Shay Keil and Lana Marks Pulver - Co-Chairs, Major Gifts
Michael Averbach and Daniel Dodek – Co-Chairs, Men's Philanthropy
Alvin Wasserman - Campaign Advisor
Catherine Epstein – Agency Liaison
Al Szajman - Chair, Marketing and Communications
Susan Hector - Canvasser Development

The early days of Annual Campaign are almost here, and they are an especially important time to give. Giving early is like an extra mitzvah. Early gifts generate the much-needed momentum that helps make the Campaign a success for our community. If you're ready to create a ripple effect, click here and we'll amplify your impact.
Shabbat Shalom,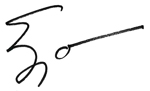 Ezra S. Shanken
CEO, Jewish Federation of Greater Vancouver