This message has 737 words and takes about 3 minutes to read.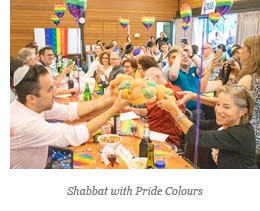 We're going to pick up where we left off last week – with the Shabbat with Pride Colours dinner that took place Friday night.

This is the third year our advocacy agent, the Centre for Israel and Jewish Affairs (CIJA) has held a Pride Shabbat dinner, and we are proud to have been involved from day one.

Members of our community who identify as LGBTQ, families, and allies came together for the sold-out event at VanDusen Botanical Garden to celebrate Pride, our community's diversity, and gather as one extended family to welcome Shabbat.

We were delighted to have with us Minister Selina Robinson, MLA Sam Sullivan, MLA John Yap, Vancouver City Councillor Rebecca Bligh, VSB Trustee Allan Wong, VSB Trustee Estrellita Gonzalez, Parks Board Commissioner Tricia Baker, Deputy Chief Constable of the Vancouver Police Department Laurence Rankin, and BC Greens Deputy Leader Jonina Campbell.

Community support for this event continues to grow each year, and there are nowHYerington@jewishvancouver.com 18 Jewish organizations that have come together under CIJA's leadership to make this event possible. A special thank-you to CIJA staff members Etti Goldman and Jessica Burke for putting together a lovely evening. There are some great photos on our Facebook page. You can see them here.

As our community continues to spread out, we are reaching out – most recently in North Vancouver. On the Saturday before last, Connect Me In partnered with Or Shalom, Har El, and The North Shore Shabbat Group to put on a Havdallah service and potluck dinner at the Kiwanis Garden Village. Twenty-seven people from all over the North Shore came together to eat, dance, sing, and get to know each other better.

Next weekend, Connect Me In will bring parents and kids together at Treehaus Teahaus play café for a free music class with a Cat In the Hat theme. Kids can play while parents get to know each other, and you can tell Hannah Yerington, our community outreach worker, about the Jewish family programming you'd like to see on the North Shore. Are you a parent of a Jewish toddler on the North Shore? Do you know someone who is? Help spread the word and get community members connected. You can find out more on Connect Me In's Facebook page.

Having a community that is expanding and changing poses both challenges and opportunities. Tonight, many of us will sit down to Shabbat tables laden with fresh, nourishing food. However, there are a growing number of community members who have difficulty accessing affordable, healthy food on a regular basis. The Food Security Task Force, jointly led by Jewish Federation and Jewish Family Services, generated recommendations that offer solutions.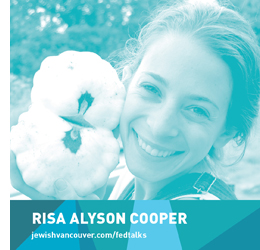 We will explore the topic of food security at FEDtalks with Risa Alyson Cooper, executive director of Shoresh, an organization that empowers the Jewish community to "take care of the earth by connecting people, land, and Jewish tradition." So far, Shoresh has donated 4,000 pounds of organic produce from their 16 community gardens to tzedakah while preserving the dignity of their clients.

One of the fascinating things about Risa's story is that she didn't always see the connection between Jewish tradition and food security (or food justice). Her "a-ha" moment happened on a road trip when she was invited to a vegan community dinner at a church in Nelson. As she chatted with the pastor, he explained that he viewed his veganism as a reflection of his Christian values. This moment set Risa on the path to explore the connection between her Jewish identity and interest in environmentalism. Ten years later, Shoresh leads the way as communities like ours evolve our food security strategies.

If you don't know where your next meal is coming from, or you know someone in this situation, resources are available to you in our community. Jewish Family Services (JFS) operates a number of programs, including JFS Food Link, which is a new program for lower income Jewish households in the Tri-Cities and Richmond areas. Connect Me In is proud to support JFS Food Link by connecting families to this program. JFS Food Link is also supported by a grant from the Jewish Community Foundation.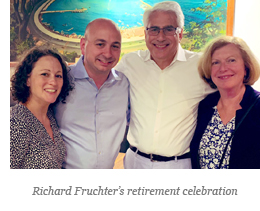 Speaking of JFS, we had the opportunity this week to celebrate Richard Fruchter, CEO of Jewish Family Services, for all he has done for the organization and for the community. Before Richard was CEO of JFS, he was interim CEO of Jewish Federation, and we were proud to recognize Richard for his service to our community at our Annual General Meeting in June. His retirement celebration was another opportunity to say a huge todah rabah and I felt honoured to speak about him at the event. Richard has not only made a positive impact on our community, but he is a great partner and friend. Richard, we will miss you and wish you the best!

As Shabbat ends, the saddest day of our year, Tisha b'Av, begins, and we will remember the destruction of the first and second temples in Jerusalem. So today we wish you not only Shabbat shalom but a meaningful fast.
Shabbat Shalom,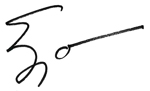 Ezra S. Shanken
CEO, Jewish Federation of Greater Vancouver