This message has 660 words and will take about 3 minutes to read.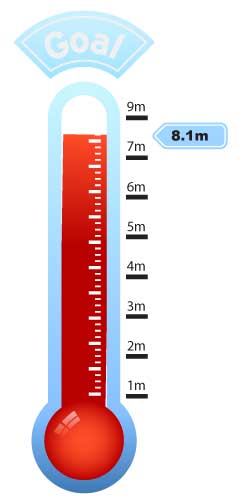 BBefore the New Year, we hit an important milestone: we crossed the $8 million dollar with the Annual Campaign. In fundraising, we believe that momentum begets momentum. We're 90 per cent of the way to our goal of $9 million, which is good news, but that gap makes all the difference. Each gift is essential. So we're currently reaching out to donors from whom we've not yet heard back. The funds raised benefit nearly everyone in our community, directly or indirectly; so we all rely on everyone to make a commitment each year. If you haven't yet made yours, why not start 2019 with the mitzvah of tzedakah?  
With school in session and parents back at work, things are starting to ramp up again across the community. It can be challenging, however, for some members of our community to connect and find out what programs and events are available. This is especially true for young adults, and for those who live beyond Vancouver's city limits. While we typically don't promote upcoming events in this message, we make exceptions for those of particular interest to these groups, in an effort to encourage their involvement.  
Let's start in Coquitlam and Fort Langley. Tu B'Shevat is approaching, and our PJ Library program will celebrate with two fantastic programs. The first is on Tuesday. Presented in partnership with our Connect Me In initiative and the Burquest Jewish Community Association, it's free, features music by Lisa Rae Simons, and you can drop in. Find out more here. The second is on January 20th in Fort Langley, presented in partnership with Connect Me In, the Langley Hebrew School, and a group of Fraser Valley families who've been actively connecting via events, the Hebrew School, and the Fraser Valley Jewish Kids Club group on Facebook. Find out more here.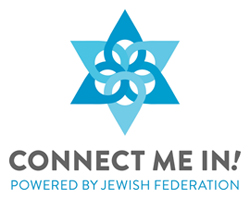 While on the topic of Connect Me In, we're pleased to introduce Gabby Switzer, our new outreach worker for emerging Jewish communities east and south of Vancouver. Gabby is excited about supporting and strengthening grassroots initiatives. Together with Hannah Yerington, who holds a similar role on the North Shore and Sea to Sky Corridor, Gabby will introduce and support new programming initiatives in the regional communities. If you live there and wish to get involved, please contact Gabby or Hannah. They'd be happy to chat, meet for coffee, or help you plan great programs and events. You can check the Beyond Vancouver section of our website or our Connect Me In Facebook page to discover what's happening in the regional communities. You can learn more about the importance of this outreach in our 2020 Strategic Priorities.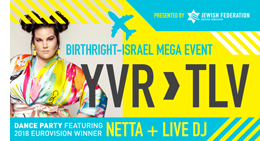 We're also delighted to share that our Israel and Overseas Affairs department has pulled off a major coup – it's booked Israeli 2018 Eurovision winner and singing sensation Netta for the Mega Event it's hosting on January 26th. You probably know Netta's song, Toy. She and a live DJ will get everyone on their feet and dancing at this YVR>TLV party. While the event re-connects Birthright-Israel alumni from the past two decades, you don't have to be an alum to attend. Everyone 19+ is welcome, the early bird ticket offer's been extended, and we want you there! We've been sending Jewish teens and young adults on life-changing Birthright-Israel experiences for 18 years, and that's something we can all celebrate. We always bring top Israeli artists to Vancouver for events like Yom Ha'atzmaut, and we're continuing the tradition of bringing Israelis stars here for the Mega Event, so don't miss out.  
All of these great events that reach out and engage community members across the spectrum contribute to making our community stronger and more vibrant, and we all benefit from that.
Shabbat Shalom.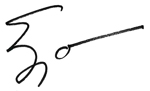 Ezra S. Shanken
CEO, Jewish Federation of Greater Vancouver