This message has 471 words and will take about 2 minutes to read.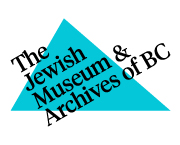 In preparation for ending one year and starting a new one, our staff spent some time hearing from our colleagues, Michael Schwartz and Alyssa Routtenberg, of the Jewish Museum and Archives of BC about the kinds of things that we as an organization should be working with them to preserve. We are proud to support their work through the Federation Annual Campaign.
One of the things they mentioned is that organizations often approach them during an anniversary year only to find out that not much information about their organization exists at the archives, because they've never made a point of submitting materials to the archives. Yet we all expect to be able to access information about our community's history.
It can be easy to get into a pattern of thinking just about the work in front of us, when we should also be thinking of that work as tomorrow's history. From newsletters and Shabbat Messages to planning reports and allocations requests, we are often capturing the community's history as it happens as part and parcel of our day to day work.
Many other organizations and individuals have materials and memories of historical value, too. Maybe this is true for you, your family or an organization that you're involved with.
If you heard some great stories from your grandparents during your annual Hanukkah party, you can nominate them to be interviewed as part of the JMABC's oral history program. If you have volunteered for a community organization, or if you're on the board of your children's school or summer camp, or your synagogue, they would love to hear from you. And if you have old boxes of photos, family documents, or materials from organizations that you or a family member have been involved with over the years, donate them to the JMABC rather than throwing them away or letting them languish in someone's basement.
This is a time of year when many of us are cleaning out boxes and shelves, and we'll do it all again in a few months for Passover, and as you do please think about whether any of the items you find represent a piece of our collective history. If they do, please contact Alysa at archives@jewishmuseum.ca or 604.257.5199 to see if the JMABC can help.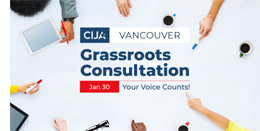 Speaking of a new start, every year the Centre for Israel and Jewish Affairs invites community members like you to participate in Grassroots Consultation sessions across Canada. This is your opportunity to ask questions, tell them what's on your mind, and shape the advocacy efforts for the year ahead. You can register here for the Vancouver consultation that will take place on January 30th.
Shabbat Shalom.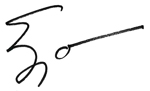 Ezra S. Shanken
CEO, Jewish Federation of Greater Vancouver
P.S. Watch this five minute video of Torah with Rabbi Infeld and Meryl Ainsman, chair of Jewish Federation of Greater Pittsburgh.