This message has 819 words and takes about 3 minutes to read.
If you have been watching the news this week, you'll know that New Orleans is preparing for Tropical Storm Barry, which is predicted to become a hurricane. A state of emergency has been declared. Streets are flooding. At least 10,000 residents of the most vulnerable neighbourhoods are being evacuated. This is a stark reminder of the devastation a hurricane can wreak on a city and its residents. No one has to remind New Orleanians, or, for that matter, Houstonians.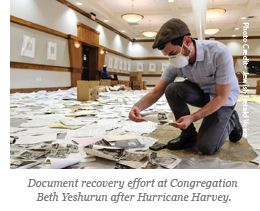 When Hurricane Harvey hit Houston in 2017, the city's Jewish community was hit especially hard. Much of the Jewish community is centred in neighbourhoods situated along Brays Bayou. When the hurricane dropped 51 inches of rain on the city in four days, the bayou breached its banks. Jewish homes, businesses, and institutions were under up to 12 feet of water. Not clean water, either. Flood water contaminates everything it touches.

Seven major community institutions were flooded. The JCC, three major synagogues, and a care facility for seniors sustained major damage. Two thousand Jewish households were affected. A year later, more than half of those residents weren't yet back in their homes. Many of them still aren't.

Shortly after the hurricane, volunteer leaders and CEOs from across the Jewish Federation system, including me, visited Houston to see the situation firsthand. We gained a better understanding of the need and the recovery efforts, and showed our support. Jeff Rum, chair of National Young Leadership Cabinet at the time, wrote about the story of one woman he met:

…A Jewish mother of three recounted her fears that night: "Can I get everyone out of the window and sit on the roof until someone comes to rescue us? Is the roof too sloped? How will I hold my twin infants? How can I make sure to have enough special formula? Can my toddler swim? And for how long?"

This young mother put her children on a boat with a stranger, who steered them down their street and docked at the firehouse. They made it. Thank G-d.

What would ultimately save this community was just that: community. From their deeply held sense of "Texas Strong" to the support they received from Jewish communities across the continent through the Federation system, and even from the State of Israel, Houston's Jewish community is making progress on the long road to recovery and rebuilding.

You can feel proud that on behalf of our organization and our community, our Board immediately approved a $10,000 disbursement from our emergency relief fund to help. Through combined efforts more than $22 million was raised, and perhaps just as importantly, Houston's Jewish community saw that they were not alone. This is the power of the collective Federation system.

Avital Ingber was the president and CEO of Jewish Federation of Greater Houston in the wake of Hurricane Harvey. She put it this way:

We would not be here without our collective Jewish community. It was the collective of the Federation system that allowed us to give families money to use as down payments on temporary apartments. It was the collective that helped us provide money to support tuition for families who were choosing between repairing their devastated homes and keeping their child in Jewish day school. It was the collective that allowed us to give the children in families who flooded a much-needed break and opportunity to connect with their Judaism through Jewish camp scholarships. It was the collective that lifted us when we needed it, and we are truly grateful.

To date, Jewish Federation of Greater Houston has or is currently assisting more than 2,185 households containing 6,555 individuals. They have already allocated, effectively and responsibly, over $21 million of the $22.4 million that was raised to help the community.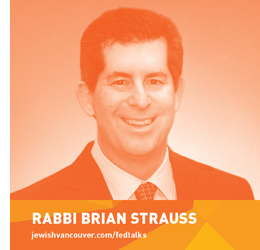 At FEDtalks, our Annual Campaign opening event, we have committed to bringing you unique, thought-provoking, and inspiring perspectives from across the Jewish world. We are very proud to welcome Rabbi Brian Strauss to this year's speaker lineup. Rabbi Strauss' home and synagogue were flooded by Hurricane Harvey. He, his family and his congregation went through some very tough times. Today, they are getting back on their feet, and he's coming to share with us how this experience affected him. For someone who has experienced so much loss, Rabbi Strauss speaks with candor and even humour about how the hurricane spurred him to make changes in his life – changes that will inspire you.

You don't have survive a hurricane to appreciate being part of a community. We are blessed to be a part of a great community every day. When you walk through the JCC, pick up your kids from school, or gather around the Shabbat table, the sense of connection is palpable. Attending a community event is another wonderful opportunity to experience this connection. FEDtalks tickets have just gone on sale, and we have curated an incredible lineup of speakers. Come join us!
Shabbat Shalom,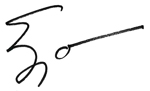 Ezra S. Shanken
CEO, Jewish Federation of Greater Vancouver