This message has 716 words and takes about 3 minutes to read.
This has been a week of action for many people in our community, especially those who live in Vancouver. And rightly so.

We are proud to be part of the multicultural fabric of this incredible city. Jewish Federation works with more than three dozen partner organizations, many of which are based in Vancouver. Our community has a rich history in Vancouver, and for generations we have helped make it the diverse and inclusive city it is today. Yet even here in Vancouver, Jews continue to be targeted.

According to Statistics Canada, police-reported hate crimes targeting members of the Canadian Jewish community reached 360 in 2017, rising by 60 percent in a single year. Hate crimes and hate-related incidents are also on the rise right here in Vancouver, where they more than doubled from 2016 to 2018.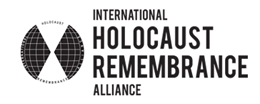 City Councillor Sarah Kirby-Yung has brought forward a motion that the City of Vancouver adopt the IHRA definition of antisemitism. This definition has been adopted by 31 countries, including Canada. The Government of Canada made it part of its anti-racism strategy in June. Today, it is the most widely accepted definition of antisemitism.

Why is defining antisemitism important? In order to stop antisemitism, individuals, organizations, and governments need to be able to identify it clearly and consistently. That starts with defining it, and doing so in a way that provides robust examples that are easy to understand and follow.

Adopting the IHRA definition of antisemitism is a tool city leaders need to keep our families, our friends, and our neighbours safe.

Community Security is one of our 2020 Strategic Priorities, and we have made great strides in this area. We are doing our part, and so are other organizations in our community. Local law enforcement agencies continue to provide support and partnership along the way, and we are deeply grateful to them.

If left unchecked, overall hatred towards both Jews and faith-based and ethno-cultural communities alike grows, and we all suffer. We would like to thank the organizations, both within and beyond our community, that have written letters of support to Mayor Kennedy and City Council.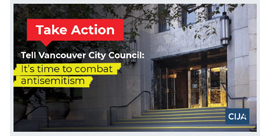 The Centre for Israel and Jewish Affairs, Jewish Federation of Greater Vancouver, and the Vancouver Holocaust Education Centre support this motion. We have received countless letters, emails and calls from people all across the community who also support this motion. We encourage Vancouver residents to click here to tell Mayor Kennedy and City Councillors that you support it, too. When you're done, post on social media and invite your friends. If you've already done so, thank you. It's a great first step, but there is more to do.

Momentum is starting to build, but this is by no means a done deal. Here's what you can do:
Click here to send a letter to Mayor Kennedy and Vancouver City Council. Share with your friends when you're done.

Show up at the Council Chamber on the third floor of Vancouver City Hall on Wednesday, July 24th to show your support. It's difficult to judge exactly when the motion will come up, but the meeting starts at 3:00, so try to be there for 2:45 so you can hear the speakers from our community. We'll see you there!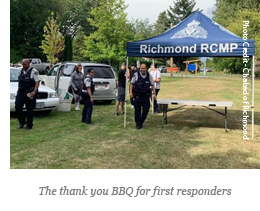 While the Vancouver Jewish community is working hard to get City Council to pass a motion defining antisemitism, the Richmond Jewish community held a thank-you BBQ for first responders – including Richmond RCMP to thank them for their commitment to keeping the city safe.

Many thanks to Chabad Richmond, Yossilinks, and Kehila Society of Richmond for organizing the event. We were proud to be part of it through our Gesher program for newcomers. The boys and I were there, and it was great to see 200 people from different backgrounds and who spoke different languages gather to say thanks. A big todah rabbah (thank you) to Constable Chan, who attended with several RCMP members.

A community is comprised of individuals, and it only becomes a community when those individuals make the decision to participate. People only do that when they feel welcome, comfortable, and above all, safe. If you do one thing before you welcome Shabbat, click here and tell Mayor Kennedy and Vancouver City Council that this motion matters to you.
Shabbat Shalom,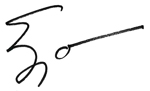 Ezra S. Shanken
CEO, Jewish Federation of Greater Vancouver