This message has 804 words and will take about 4 minutes to read.
This has been such an exciting week! Everywhere we look people are coming together and making great things happen.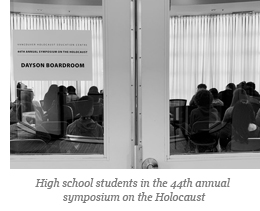 On Wednesday, our partner, the Vancouver Holocaust Education Centre (VHEC) welcomed 500 high school students who took part in their 44th annual symposium on the Holocaust. They and their teachers engaged with a historian and met with Holocaust survivors. The symposium also included a documentary film excerpt and a student Q&A panel. The VHEC also hosts 16 school district symposia throughout the year.
Creating the next generation of witnesses is more important than ever before. On the eve of Yom HaShoah, more than 200 young leaders from 10 countries gathered at the Jageillonian University in Krakow, Poland, to take part in the first-ever 'Emerging Leadership Conference,' which the International March of the Living (MOL) launched in response to the increased number of anti-Semitic events over the last two years. The conference was led by 20 youth delegates who were chosen from around the world, one of whom is a local MOL alumna, Ye'ela Eilon-Heiber. The group centered on the development of a declaration against anti-Semitism and launching a campaign to rally the support of their peers around the world.
March of the Living is taking place right now, and the students are currently in Israel. The experience helps them make the link between the Holocaust and the birth of the modern State of Israel.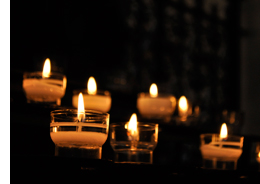 The connection our community members have to Israel is often deeply personal. Many have put their lives on the line, or their children have, and there are community members who have survived terror attacks. I was beyond moved by the memorial service organized by the Yom HaZikaron committee, chaired by Geoffrey Druker. We want to commend the volunteers and staff for this moving event, as well as for the Masa live streaming opportunity of Yom HaZikaron in Jerusalem, and the memorial at King David High School. How we remember those who have made the ultimate sacrifice reflects on who we are as human beings.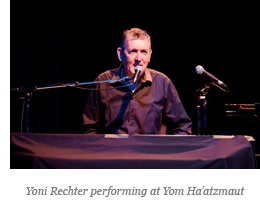 The next night, it was time to celebrate 71 years of Israel's independence at the biggest community event of the year. We were thrilled to welcome Yoni Rechter – a true legend of the Israeli music scene. Everyone loved seeing the Richmond Jewish Day School choir join him on stage to sing. The JCCGV Orr Atid and Orr Atid dancers were amazing, and we want to thank the King David High School choir for singing the anthems so beautifully. We would also like to give some kavod to the King David High School Jazz Band students who played at the pre-event reception for sponsors - they were a huge hit. The Juice, a local Israeli band supported by the JCC, warmed up the crowd, and 100 people kept the vibe going at the after party, with a DJ, line dancing and another performance by The Juice. Check out all the photos here.
Or and Ofir, our ShinShinim, are in the final stretch of their year of volunteer service in our community, and they were a highlight of the event. We will welcome new ShinShinim in August, and we are calling on you to open your homes to them. As Candace Kwinter, chair of our Israel and Overseas Affairs Committee, said at the event, "As mature and accomplished as these incredible young people are, it isn't always easy to be so far away from home. And speaking as a parent, you want to know that the host community is taking your teen under its wing." See what a great experience it is, and then email Shelley Rivkin for more information.
Many thanks to the Yom Ha'atzmaut committee, led by chair, Pamela Wolfman, and all the volunteers and staff who made this a night to remember. Young people in our community are preparing to head to Israel on Birthright Israel. We are proud to have funded this program from its inception. Just last night we held an orientation session, and there is still time to register.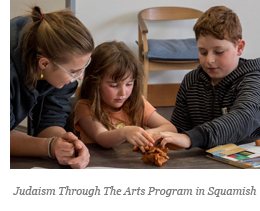 Are your kids too young for Birthright? Our Judaism Through The Arts Program in Squamish is going strong. Last week, students learned about Jewish activism, and talked about ways they can take care of each other and their community. They expressed their thoughts through a variety of art mediums, including pastels, clay, and fabric. This week, they are learning about Shabbat, and creating their own challah covers and grape juice glasses, as well as bringing home challah to share with their families on Shabbat. You can register here.
We'll continue celebrating Israel on Sunday at the JCC with Festival Ha'rikud – see you there! We're also celebrating Jewish Heritage month, so we'll leave you with 3 Moments that Forever Changed Canada from jewishheritage.ca, an initiative of our advocacy agent, the Centre for Israel and Jewish Affairs.
Shabbat Shalom,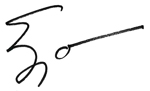 Ezra S. Shanken
CEO, Jewish Federation of Greater Vancouver