This message has 931 words and will take about 4 minutes to read.
Last Friday we had just arrived in Israel, and this week we are excited to fill you in on the details.

First, a little background. Throughout the year we work with donors who have the capacity and motivation to fund special projects that meet high-priority needs in our local community and in our partnership region in Israel. Our work in this area is expanding, which is a reflection of the ways in which our relationships with our donors and partners are growing, and the trust they place in Jewish Federation.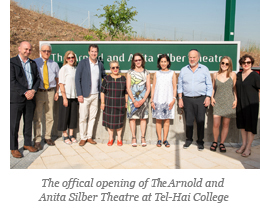 Karen James, our Board chair; Alex Cristall, our vice-chair; Candace Kwinter, chair of our Israel and Overseas Affairs Committee; Marcie Flom, executive director of the Jewish Community Foundation, and I were in Israel for the official opening of The Arnold and Anita Silber Theatre at Tel-Hai College. This new 1,200- seat outdoor theatre will be a hub of activity for the university and surrounding area. The theatre is located at the centre of the Tel-Hai campus, and is a key component in the college's long-term development plan.

Arnold and Anita have long supported our partnership region of the Galilee Panhandle, and our work there. They have supported a number of projects there and established the Friends of Beit Vancouver, a donor recognition program for supporters of Beit Vancouver. Anita serves on our Israel and Overseas Affairs Committee, and has for several years. Together, they have developed a deep connection with and understanding of the region. Recognizing that Tel-Hai is a significant economic driver in the region led them to fund this legacy project and lend their name to it – something they took very seriously.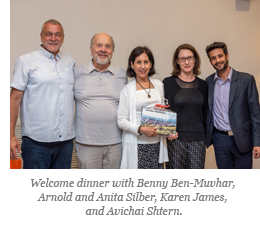 On the evening before the official opening we attended a welcome dinner with Avichai Shtern, the newly elected mayor of Kiryat Shmona, Benny Ben-Muvhar, mayor of the Mevo'ot HaHermon Regional Council, and volunteer leaders from the Coast-to-Coast partnership. They honoured not just the Silbers but also Karen, for her dedication to the region and its residents. Although Karen's term as board chair is concluding in a few weeks, she will remain actively involved in our work in Israel and locally. Like the Silbers, Karen's commitment to the partnership region runs deep, and it was wonderful to see her contributions recognized.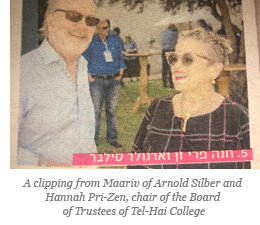 The next day was the official opening of The Arnold and Anita Silber Theatre, which began with a welcome reception with Tel-Hai's Board of Trustees, followed by a ribbon cutting. Arnold and Anita were joined by their granddaughter, Samantha Addison, and family members from Israel, which made the day even more meaningful. In reply to the address honouring the Silbers that was delivered by Tel-Hai's president, Professor Yossi Mekori, Arnold stressed that the students were the primary motivation for this investment. They are the ones to whom the future of the region is entrusted, and it is they who will take it to the next level.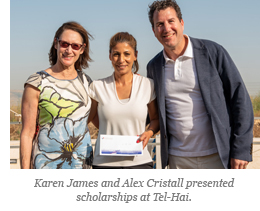 A number of families and individuals from our community agree, and they are funding scholarships, which were awarded to students at the ceremony: The Coleman Family Scholarships, The Krell Family Scholarships, The Evelynne Loomer z"l Scholarships, The Bernard Lotzkar Scholarships, and The Zalkow Family Scholarships. Karen and Alex had the honor of presenting the scholarships. It was the first of many scholarship ceremonies, convocations, and performances that that will become people's most treasured memories.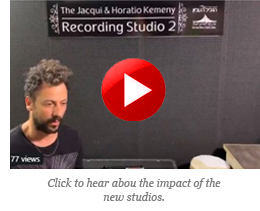 While in Israel we also visited The Clore Centre for Music and Dance, and dedicated two recording studios made possible by a gift from the Horatio Kemeny family. It will give local young people access to the latest recording technology and live streaming capability, which will help them reach their full potential as artists. Hear more from Ran, a teacher at Clore.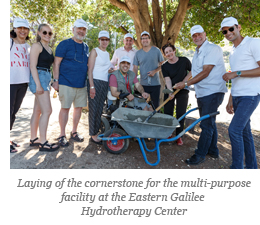 We also took part in laying the cornerstone for a multi-purpose facility at the Eastern Galilee Hydrotherapy Center in Mevo'ot HaHermon. The centre enables the delivery of a variety of treatments for people with special needs, and is supported by a number of Vancouver donor families. The multi-purpose facility is the final element that will make the center a true one-stop-shop for people with special needs and their caregivers. We're very proud to be funding this project through the Coast-to-Coast partnership.

Just before we left for home, Arnold and Anita hosted a farewell dinner for the group with Moshe Ya'alon, Israel's former Minister of Defense and Chief of Staff of the IDF. We had a unique opportunity to hear directly from one of Israel's top security experts about the issues facing the country today.

We are back home now, but Israel is still very much on our minds. As you may have heard, temperatures are soaring and wildfires are raging. Sixty families have lost their homes in Mevo Modi'im and Kibbutz Harel. Jewish Federations of North America, and our partner, the Jewish Agency, are providing emergency assistance to these families. Click here to learn more about how we're helping.
Shabbat Shalom,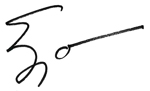 Ezra S. Shanken
CEO, Jewish Federation of Greater Vancouver