This message has 820 words and will take about 4 minutes to read.
When we sent you an update from our Community Security Advisory Committee in last week's Shabbat message, little did we know that just a short while later we would hear about yet another shooting in a synagogue.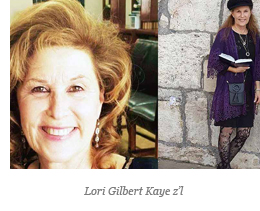 Just six months after we gathered to mourn the victims of the Tree of Life synagogue shooting in Pittsburgh, we gathered to remember Lori Gilbert Kaye z'l and those injured both physically and emotionally by the shooting at the Chabad of Poway Synagogue. Hundreds of community members came together at Schara Tzedeck for an Evening of Solidarity, Unity and Prayer, which was organized by the Lower Mainland Chabad. It brought together a diverse group of community members to show their support for Chabad of Poway and reaffirm their pride in being part of the Jewish people. We were pleased to provide Chabad with security for this event and for the coming Shabbat.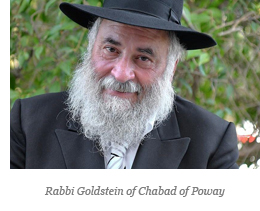 One of the most moving parts of the evening was hearing from Vancouver community member, Dr. Jack Altman, who was in the Poway shul last Shabbat and spoke about his experience during those terrifying moments. Another powerful point in the evening was the screening of Rabbi Goldstein's statement made shortly after his surgery. The evening ended with the singing of Am Israel Chai and a reminder for people to attend shul this Shabbat to show that acts like this do not stop us from expressing our Judaism.  
If you would like to support the victims of the shooting, their families, and those affected, you may donate here. Funds raised will be combined with funds raised through other Jewish Federations across Canada, and distributed through the Jewish Federation of San Diego County.   Earlier in the day, we participated in a solemn ceremony to commemorate Yom HaShoah with MLAs in the Hall of Honour at the BC legislature. The timing was lost on no one.  
Holocaust survivors lit candles in memory of the six million Jewish men, women and children and the countless others murdered by Nazi Germany and its collaborators, and Holocaust survivor, Mariette Doduck, shared her personal story.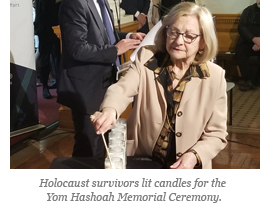 Premier Horgan spoke eloquently and presented certificates of recognition to Holocaust survivor Dena Wolfe, and third generation survivor, Sam Heller, who many of you know is also the executive director of our partner, Hillel BC. Michael de Jong, MLA for Abbotsford West, spoke poignantly about his experience visiting Yad Vashem. Selina Robinson, MLA for Coquitlam-Maillardville and a member of our community, tweeted this video of Nicholas Simons, MLA for Powell River - Sunshine Coast, playing Kol Nidre on the cello.  
Our board chair, Karen James; our vice president of planning, allocations and community affairs, Shelley Rivkin; and I were privileged to be part of this important event. Many thanks to our advocacy agent, the Centre for Israel and Jewish Affairs(CIJA), for their role in organizing it.
We would also like to acknowledge the incredible work of our partner, the Vancouver Holocaust Education Centre (VHEC), which hosted our community's annual Yom HaShoah Commemorative Evening on Wednesday evening, featuring Holocaust survivor, Lillian Boraks-Nemetz, with violinist Nancy Di Novo, and Cantor Yaacov Orzech. Every year, the VHEC invites all Holocaust survivors to participate in the candle lighting ceremony, and it was one of the most moving aspects of the evening.
We spent considerable time this week pausing to reflect and to remember. The kavanah, or intention, that we brought to that is not diminished when the day-to-day events of life and of community resume. It is normal and profoundly good that they do.  
On Tuesday evening, we were very proud to collaborate with CIJA to present the Words & Deeds Leadership Award to the McLean family at a gala dinner attended by more than 400 of the city's most respected business leaders and philanthropists.  
The McLeans were honoured for their philanthropy and for their involvement in and contributions to community, and it was well deserved, indeed. It was truly moving to hear David McLean speak about his unforgettable experiences Israel, and wonderful to hear him encourage everyone there to visit. As Karen mentioned in her remarks, the McLeans share the value we place on l'dor v'dor, or passing our values and traditions from one generation to the next, and it was wonderful to honour them not only as individuals, but as a family.  
This evening of celebrating Israel and advocacy, and of building friendships and support would not have been possible without the leadership of the co-chairs and the committee, and we would like to express our gratitude to them.  
Dinner Co-Chairs: Douglas M. Pulver, Lana Marks Pulver, and Peter R. B. Armstrong  
Honourary Co-Chairs: Gordon & Leslie Diamond and Joe & Rosalie Segal  
Committee Members: David J. Cape, Michael Fugman, Barry Glotman, Martin Glynn, Mitch Gropper, Alain Guez, Candace Kwinter, Walter Pela, Joel Reitman, Jeff Rosenthal, and Garry Zlotnik.  
Words & Deeds was truly a night to remember, and in a week of reflection and much darkness, the support and friendship we experienced there was a very bright light.
Shabbat Shalom,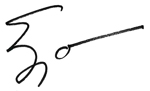 Ezra S. Shanken
CEO, Jewish Federation of Greater Vancouver
P.S. If you're a podcast lover, click here to subscribe to the podcast version of the Shabbat Message using your favourite app.