This message has 852 words and takes about 3 minutes to read.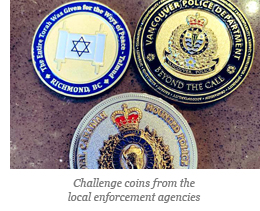 Hosting a Shabbat dinner and having the opportunity to practice the tradition of hachnasat orchim (welcoming guests) is always a pleasure. Last Friday evening it was also an honour.

We partnered with our advocacy agent, the Centre for Israel and Jewish Affairs, to support Bernard Pinsky, chair of our Community Security Advisory Committee, as he hosted – on behalf of the entire committee – a very special Shabbat dinner to honour local law enforcement at his synagogue, Congregation Beth Israel.

We would like to thank Rabbi Infeld, Rabbi Stein and Rabbi Moskovitz who helped make it easy for more than 20 members of local law enforcement organizations to understand and relate to our Shabbat traditions. Rabbi Stein even wrote a special blessing for the occasion, which we want to share with you:
מי שברך בשביל המשטרה ששומרת אותנו
מִי שֶׁבֵּרַךְ אֲבוֹתֵינוּ אַבְרָהָם יִצְחָק וְיַעֲקֹב שָׂרָה רִבְקָה רָחֵל וְלֵאָה, הוּא יְבָרֵךְ אֶת כָּל הַמִּשְׁטָרָה שֶׁל עֲרֵי וַנְקוּבֶער
וְרִיצְ׳מוֹנְד וּמְדִינָת קָנַדָה שֶׁשׁוֹמְרִים אוֹתָנוּ. הַקָּדוֹשׁ בָּרוּךְ הוּא יִמָלֵא רַחֲמִים עֲלֵיהֶם וְאֶת כָּל מִשְׁפָּחְתָם, לְהַחֲזִיקם
.וְיִשְׁמְרֵם, וְנֹאמַר אָמֵן
Blessing for those who protect us
May God who blessed our ancestors, Abraham, Isaac, and Jacob, Sarah, Rebecca, Rachel, and Leah, bring blessing to all of the police of the cities of Vancouver and Richmond and the country of Canada who protect us. May the Holy One be filled with compassion for them and all of their families, to strengthen them and protect them, and let us say: Amen.

The moment that most stood out to me was when Rabbi Infeld and Rabbi Stein gave some of the them a tour of the synagogue. I walked into the sanctuary to see them surrounding the open torah on the bima as the rabbis taught them about our traditions.

When law enforcement and community have a strong connection, then community policing works. When that connection is weak, it becomes infinitely harder to do the job. We would like to thank Bernard and the members of our Community Security Advisory Committee; our director of community security, Daniel Heydenrych; and our vice president, planning, allocations and community affairs, Shelley Rivkin, for the work they do to build these relationships and to continually enhance our proactive approach to community security.

While we were at Beth Israel, Connect Me In facilitated the first of two Jewish programs on the North Shore that weekend, starting with the monthly North Shore Shabbat, which they hosted in partnership with Har El, Or Shalom, and The North Shore Shabbat Group. Connect Me In continues to grow and thrive on the North Shore, and on Sunday PJ Library and Connect Me In hosted their fourth North Shore toddler circle time at Teahaus Treehaus. It's great to see this group continuing to get together and "do Jewish" with their little ones.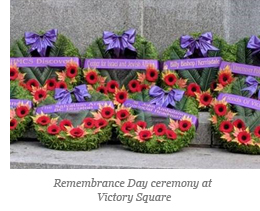 The next morning, representatives from our local CIJA office attended the Remembrance Day ceremony on the grounds of Victory Square, where Nico Slobinsky and Etti Goldman laid a wreath on behalf of the Jewish community. We are grateful they could participate in this beautiful commemoration.

Meanwhile, Candace Kwinter, chair of our Israel and Overseas Affairs Committee, Shelley and I participated in Jewish Federations of North America's FedLab – a invitation-only series of workshops intended to give volunteer leaders and senior staff opportunities to reexamine our approaches to long-standing issues. As community challenges, like security and engagement, evolve, so must our solutions.

Candace participated in the engagement track and said that it was one of the best conferences she has ever been to. "It was all about Millennials and how we have to change the way we're engaging them. A lot of what they said I'm not sure if our community is ready to hear. We have to do things differently, and that can be hard for boards and donors."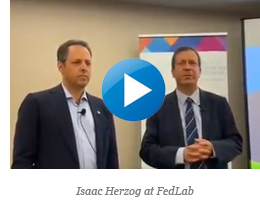 Isaac Herzog, chairman of our partner, the Jewish Agency For Israel, was with us at FedLab as our eyes were on Israel, where millions of civilians were under rocket attack from Gaza. It meant a great deal to be able to demonstrate our collective solidarity with Israel and Israelis during such a difficult time. Click here to see video of his response.

We are fortunate to have partners, leadership, and a staff team who are willing, able, and even eager to envision how we can rise to new challenges and continue to improve the ways in which we make an impact.

Every way in which we evolve creates a ripple across our entire community, whether it's in how we plan for the future, how we bring our partners together for maximum results, or how we diversify the ways in which we generate resources. Your gift, whether it be big or small, makes an impact that reaches far and wide, too. National Philanthropy Day is coming up on Monday, so it's a great time to make your gift online or return your canvasser's call.
Shabbat shalom.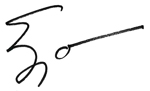 Ezra S. Shanken
CEO, Jewish Federation of Greater Vancouver