This message has 1189 words and takes about 5 minutes to read.
Some weeks we know well ahead of time what we want to write about in the Shabbat Message. Then there are weeks when we have to adjust course.

This morning we were alerted by our advocacy agent, the Centre for Israel and Jewish Affairs (CIJA), about Nazi memorabilia that is part of a lot being auctioned tomorrow by Maynards in Richmond. When CIJA asked Maynards to remove the items from the lot, they refused. Read CIJA's response here.

While it is not illegal for Maynards to auction Nazi memorabilia, we cannot imagine why such an otherwise reputable company would accept the lot for sale in the first place or choose to profit from the sale of these items. It's appalling, and quite frankly, beggars belief.

The sale is particularly troubling when you consider that just last year Metro Vancouver had the highest rate of hate crimes reported to police of Canada's three biggest cities. Not only that, but hate crimes and hate related incidents jumped from 61 in 2016 to 141 in 2018. Jews are amongst the most targeted populations.

Many thanks to the individuals and elected officials who have spoken out against the auctioning of these items by Maynards. Richmond Councillor Bill McNulty and Richmond Mayor Malcolm Brodie were two of the first to speak up and we deeply appreciate their willingness to raise their voices.
These items belong in a museum where people can learn about them in their proper historical context. Our partner, The Vancouver Holocaust Education Centre, engages 25,000 students and teachers annually and promotes human rights, social justice and genocide awareness through education and commemoration of the Holocaust.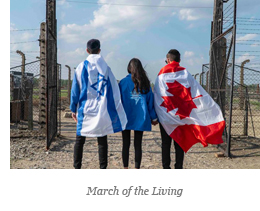 We told you last week that we have 43 high school students signed up to participate on March of the Living in April – a two-week trip we support to Poland and Israel where teens learn about the Holocaust. The experience turns them into the next generation of witnesses, and they participate knowing that one day survivors will be gone and they will need to stand in their place and speak out.

The timing of the auction is not lost on us. Not only is it taking place on Shabbat, but during provincial Multiculturalism Week. BC's Multiculturalism Act was "built on the aspiration of creating a multicultural society free from racism, where individuals are treated with respect and dignity…" and so it was this week that the provincial government announced the launch of the Resilience BC Anti-Racism Network.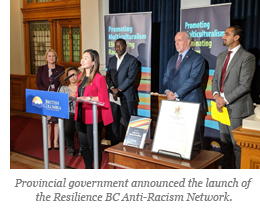 This initiative will provide communities around the province with tools, resources and funds to address racism and promote anti-hate activity. The new network is a result of the consultations that Ravi Kahlon, former parliamentary secretary for sport and multiculturalism, led this past summer.

We were very proud that Shelley Rivkin, our vice president, planning, allocations and community affairs was part of one of those consultations. She was in Victoria for the announcement, and was joined by Nico Slobinsky, director of CIJA-Pacific Region.

In Premier Horgan's remarks announcing the initiative, he made special mention of attending the Kristallnacht commemoration the previous week and how he was reminded of how critical it is for governments to stand up against any form of hate and racism.

We couldn't agree more.

Back in July more than 1,100 residents of Vancouver sent letters in support of Vancouver City Council adopting the International Holocaust Remembrance Alliance's (IHRA) definition of antisemitism. Council referred the motion to the Racial and Ethno-Cultural Equity Advisory Committee for input. We are now at the stage where we are preparing to submit answers to questions the committee has posed. We will update you again when the committee makes their recommendation to Council.

In the meantime, there are ways you can make a difference.

CIJA is calling on people to join a broad alliance of Jewish and non-Jewish groups in an innovative new initiative called Maspik! A Coalition to Combat Antisemitism in Canada. They want to bring the best minds together to foster innovative approaches to combating antisemitism. Visit maspik.ca to learn more.

On Tuesday, in a stunning reversal, the Government of Canada voted in favour of an anti-Israel resolution at the United Nations. We encourage you to click here to tell the Prime Minister that Canada must oppose UN resolutions aimed at isolating and delegitimizing Israel.

Jewish Federation is here to lead the way no matter what our community has to deal with in any given week. More than that, we're here l'dor v'dor – from generation to generation – and across the lifespan. It's customary to leave you with something positive before we sign off for Shabbat, so let's switch gears and look back on some of the reasons that this week, while often troubling, was also filled with joy and hope.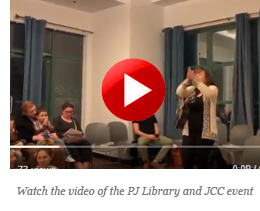 On Saturday evening, families with young children gathered in their pajamas and joined PJ Library and the JCC to mark the end of Shabbat and to greet the week with a swim, dinner and storytime. It was a lot of fun! Check out the video here.

High school students at King David celebrated Random Acts of Chesed (Kindness) week, the theme of which was Be The Light In The Dark. They raised money to support Krembo Wings, an a program in Israel that brings together children with disabilities and their able-bodied peers. It's a great program that we have supported in the past. Kol hakavod (all the respect) to the students for another successful RAC week!
As you look ahead to next week, please join us on Tuesday for the Changing Landscapes Forum, where we'll focus on planning for the needs of Jewish seniors. Find out more here.
Whether it's building Jewish connections for families, supporting Jewish education, making sure our community is prepared to care for our growing population of seniors, or funding advocacy efforts, none of our work and the great work of our partners would be possible without the generosity of our donors. If you've already made your gift to the Federation Annual Campaign, thank you. If you haven't yet had the opportunity, you can click here or be in touch with your canvasser.
Shabbat shalom.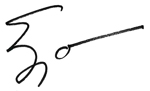 Ezra S. Shanken
CEO, Jewish Federation of Greater Vancouver