This message has 799 words and takes about 3 minutes to read.
We were horrified by the anti-Semitic attack in Halle, Germany on Yom Kippur in which two people were killed and several were wounded. Daniel Heydenrych, our director of community security, was in touch with local law enforcement and personally visited synagogues throughout the day.

We are grateful to the Vancouver Police Department, the RCMP, and the West Vancouver Police Department, who gave synagogues and houses of worship in their areas special attention on Yom Kippur. While there was no increased threat to Canadian Jewish communities, it is always helpful to have this as an added precaution. We take community security very seriously. You can read the most recent update from our Community Security Advisory Committee here.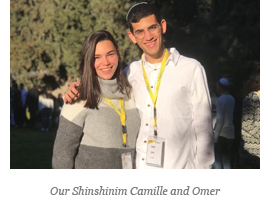 I visited just about every synagogue throughout the High Holidays, and there were bright spots on Yom Kippur, too. One of these was the charming address given by Shinshin, Omer Shpatz, at Congregation Beth Israel. It was his first time fasting, and boy was he thirsty. (We hear you, Omer!) Omer has only been here for a few weeks, but it looks like we've made an impression, because he said he wouldn't trade our community for anything. Thank you to everyone who has helped Omer and Camille feel part of our community during their first High Holidays away from home.

Being part of a community is a powerful feeling, and for many of us those community connections take place at the JCC, which has been at the heart of our community for decades. As one of the most diverse community centres in the area, it also plays an important role beyond the Jewish community.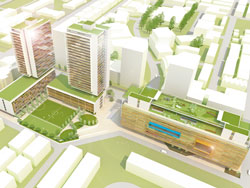 We want to ensure that the JCC continues to be as strong as possible for our children and their children. Having a strong community core is essential to our ability to extend our reach and our impact. So, we are very proud to announce that the JCC and Jewish Federation have signed a memorandum of understanding (MOU) agreeing to work together on the proposed redevelopment of their site.

This partnership is the first of its kind in our community's history and important step in what will be a complex, long-term project. The MOU outlines a partnership in which the JCC would transfer ownership of its property to a new community entity governed by an independent Board of Directors. The JCC and Jewish Federation have also agreed to collaborate on and co-lead fundraising activities for the capital campaign that will ultimately be needed to fund the redevelopment. Commitments from beyond our community, including from the government, are also pieces that will need to fall into place before we can realize this vision.

Should the redevelopment move forward as proposed, it is expected to be the largest investment the local Jewish community has ever made in a single project. The JCC undertook extensive community and public consultations, and last September Vancouver City Council unanimously approved the rezoning. The planning stages of the project have received support from the provincial government and private donors.

The proposed JCC site redevelopment is expected to result in a new 200,000 square foot state-of-the-art recreational, cultural and community centre with new childcare spaces, more services for seniors, an expanded space for the Vancouver Holocaust Education Centre, a new theatre and more. The new JCC is expected to continue to be a hub for more than 15 not-for-profit community organizations, as well as the arts and cultural, aquatics, and fitness programs that are such an important part of the JCC experience.

The JCC's president, Salomon Casseres, says that they "believe that this collaboration puts the project on a strong foundation for success, from a community, financial and governance perspective." We couldn't agree more.

Our board chair, Alex Cristall, calls this "an opportunity (that) comes along perhaps once in a generation." In the Talmud it says that we found a fruitful world because our ancestors planted for us; likewise, we plant for our children. The proposed redevelopment is very much an opportunity to build for the generations that will come after us, and to leave a legacy for our community, for the city, and for the region.

One of the questions we've been asked is whether the fundraising component necessary for a new JCC would impact the Federation Annual Campaign. The campaign continued to stay strong when our community experienced significant back-to-back capital campaigns in recent years, in part because of strategic shifts we have made in how we work with our donors and our partners. We and our leadership believe this positions us to continue to have a strong Annual Campaign for years to come.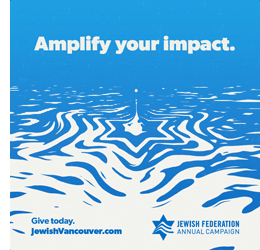 The Annual Campaign plays a crucial role in the health of our community. Thousands of people rely on the programs and services funded by the Annual Campaign and delivered by our partners. From subsidies for childcare to programs for seniors, your gift supports community members through every phase of their lives and brings to life the value of l'dor v'dor. If you've already made your gift, thank you. If you haven't yet had a chance to do so, please give today and create a ripple effect that will be felt across our community.
Shabbat Shalom,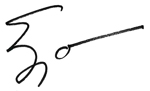 Ezra S. Shanken
CEO, Jewish Federation of Greater Vancouver