This message has 770 words and will take about 4 minutes to read.
What are the priorities of our community? What are its most pressing concerns?
These are the questions raised every year when our advocacy partner, the Centre for Israel and Jewish Affairs (CIJA), holds its Grassroots Consultations. This cross-country, 13-city effort held its Vancouver stop in the JCC's Zack Gallery earlier this month. CIJA uses these meetings to inform its advocacy strategy for the coming year.  
The 35 community members and partners who attended the Vancouver meeting, which was led by CIJA-Pacific Region chair, Jason Murray, with the help of four volunteer facilitators, wanted CIJA to devote its attention to strengthening Jewish community security, supporting human rights, building Canadian support for Israel, and tackling local affordability issues for Jewish people.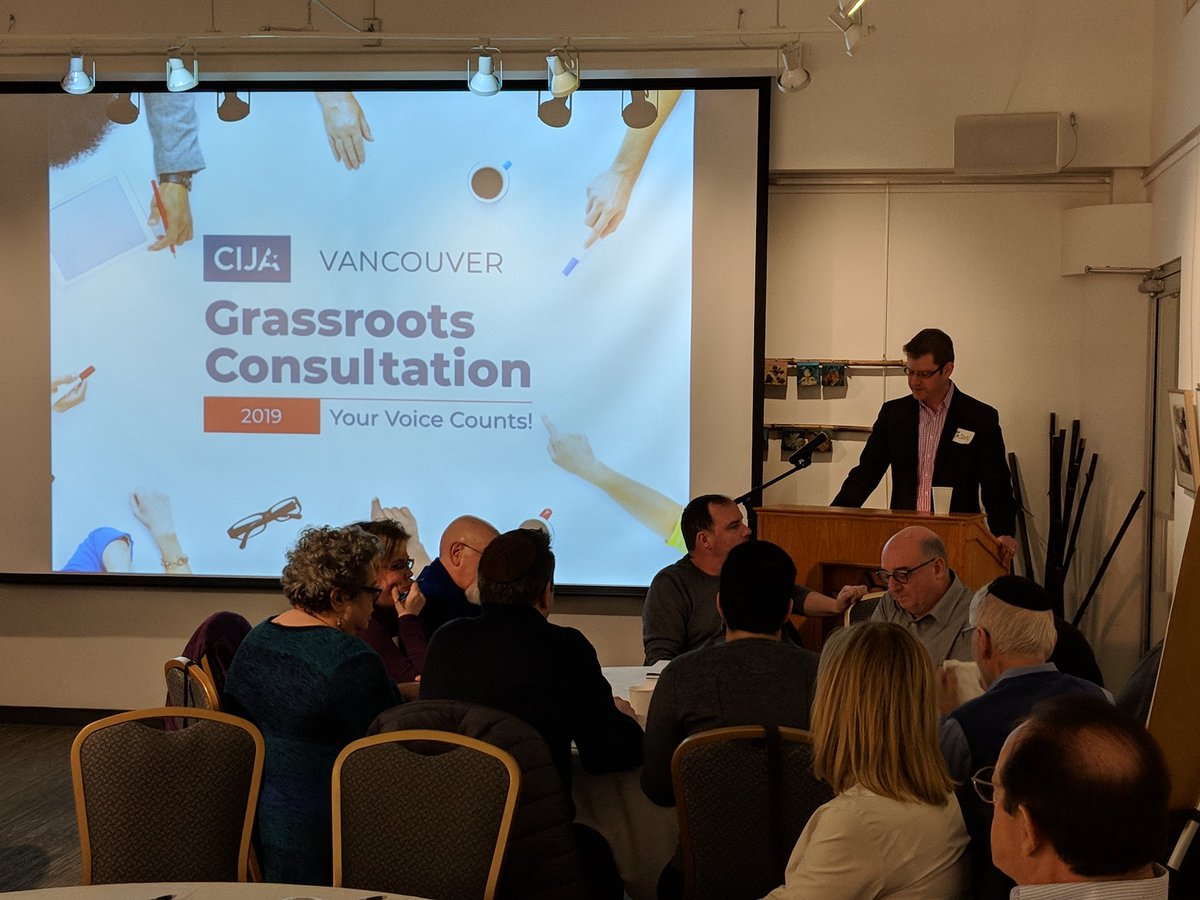 Together with Nico Slobinsky, the director of CIJA-Pacific Region, we would like to thank everyone who attended the event and made their voices heard. We all benefit when people devote their time and energy to improving the lives of others.
We tend to write quite often about programs that align with our 2020 Strategic Priorities, and like the CIJA Grassroots Consultations, those priorities were informed by a series of discussions that took place across our community.  
One of the goals that we defined was to grow the Annual Campaign in order to better meet community needs. Like our donors, our 250 volunteer canvassers play a key role in making the campaign a success for our whole community. We were delighted to celebrate them at a thank-you event on Wednesday evening, and present Certificates of Appreciation to 13 people who have been canvassers for more than 18 years. You can see photos here.  
Canvassers are community members from all walks of life who care deeply about the power of collective giving and the impact the Federation Annual Campaign has on the lives of thousands of people. Some of our canvassers have been volunteering for decades and across generations; others have just started. Either way, they are the heart of our work, for they reach out tirelessly and seek the support of thousands of donors every year.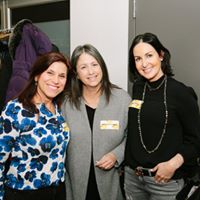 Megan Laskin, Women's Philanthropy Chair, spoke at the event. She pointed out that our campaign this year focused on connection, and that it was the canvassers' personal connections that make the Federation Annual Campaign so effective. "All together, you reached out to well over 1,500 Jews, and through conversations and building relationships, worked to strengthen our entire community."  
Many thanks to Mark James, a canvasser himself, for hosting us at Red Truck Brewery for the third year in a row. Interested in becoming a canvasser? We always need more canvassers to make a few calls. Please email us at campaign@jewishvancouver.com.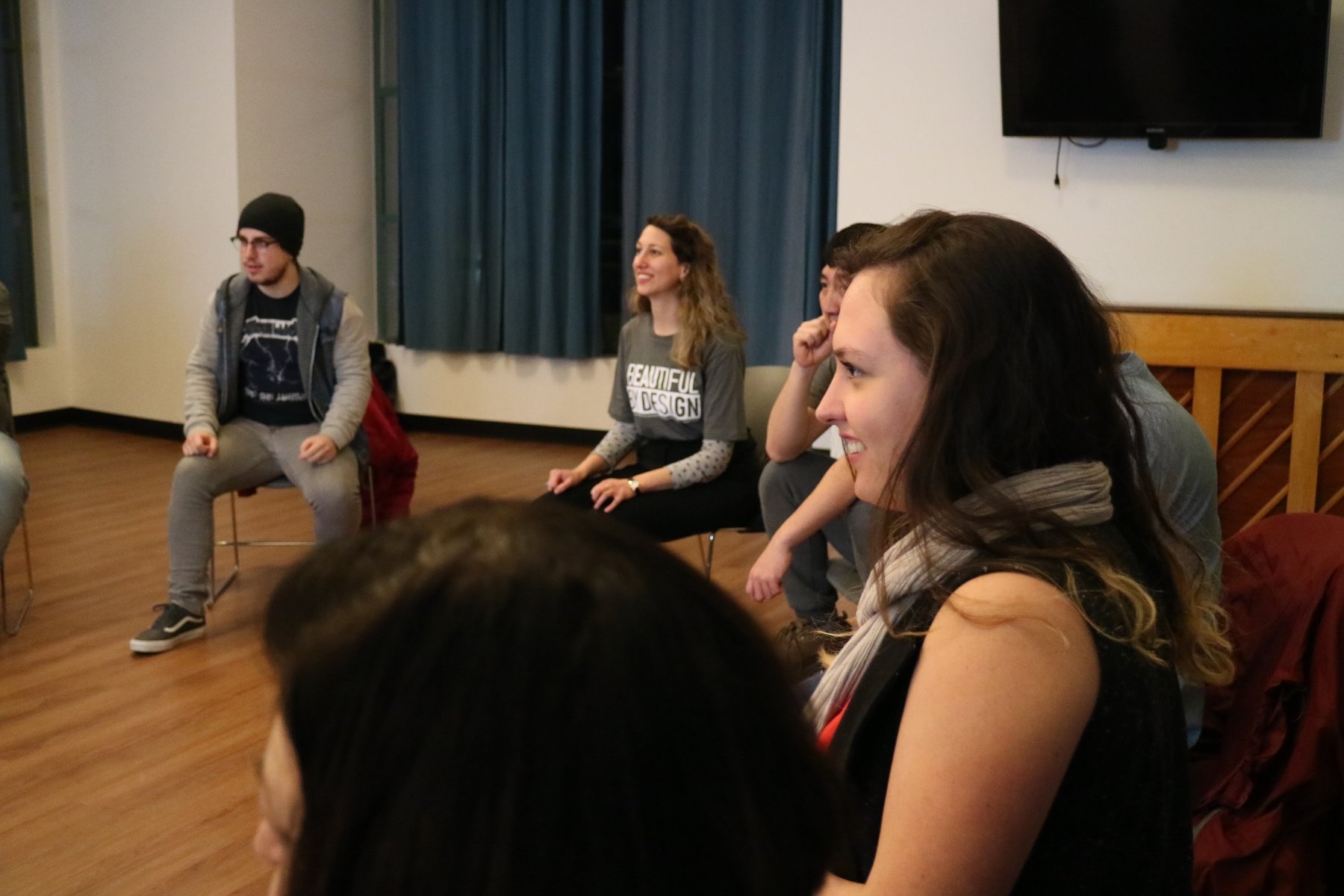 Earlier this week, our young adult program, Axis, joined the JCC Bagel Club to celebrate Jewish Disability Awareness and Inclusion Month (JDAIM) with a theatre workshop facilitated by Hila Graf. Participants played drama games and used movement to discuss the themes of leadership, community building and inclusion. It was a night of fun, laughter and belonging.
While we are on the topic of young adults, we reminded you last week that registration is open for Birthright Israel summer trips – but this isn't the only popular Israel experience for young adults. Each year, approximately 20-30 recent high school and university graduates and young professionals from our community participate in Masa Israel Journey programs. Masa's flagship program Masa Israel Teaching Fellowship (MITF) offers two tracks for college graduates to teach English in Israel. Masa provides young adults with an immersive cultural experience while they live in Israel, and the opportunity to do meaningful work, like helping children learn English. When they return home, our job is to harness their enthusiasm and deepen their involvement in our community. Your gifts support this program, which is offered through our partner, the Jewish Agency for Israel, as well as scholarships for those applicants who need additional financial assistance.  
When it comes to engaging community members, arts and cultural events celebrate our heritage and offer easy pathways into community. We are proud to support the Cherie Smith JCC Jewish Book Festival once again, and we are thrilled that in addition to the many great events offered in Vancouver, the festival is offering events on the North Shore, in the Tri-Cities and in White Rock/South Surrey. As our community continues to expand, offerings like these are becoming more important. Thankfully, they are also becoming more commonplace. Elie Wiesel z"l once said, "I do not recall a Jewish home without a book on the table." Now, no matter where your home is, there is a book festival event close to you.  
Shabbat Shalom.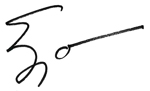 Ezra S. Shanken
CEO, Jewish Federation of Greater Vancouver
P.S. If you're a podcast lover, click here to subscribe to the podcast version of the Shabbat Message using your favourite app.