This message has 794 words and will take about 4 minutes to read.
This weekend marked a historic occasion in Israel's history, and indeed in the history of the region. It was 40 years ago that Israeli Prime Minister Menachem Begin and Egyptian President Anwar Sadat signed the Egypt–Israel Peace Treaty. Take a look back at that historic moment with this short news clip. Whether you are old enough to remember watching the news coverage as it happened or not, it remains as powerful a moment today as it was in 1979.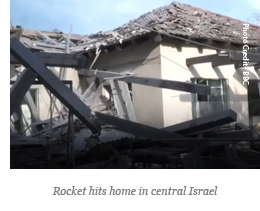 Egypt brokered a cease-fire agreement between Israel and Hamas this week after a powerful J-80 rocket with a range of 120 kilometres destroyed a home north of Tel Aviv, injuring seven people, including an 18-month-old baby.
It was the latest attempt by Hamas to provoke a military escalation with Israel in order to distract  from its brutal oppression of Gazans and the ongoing internal protests in Gaza that have recently reached their largest level since Hamas seized control of the area in 2007.
Jerry Silverman, President and CEO of Jewish Federations of North America (JFNA), also noted that "Hamas leadership may believe that Israeli Prime Minister Netanyahu would be wary of any significant military activity (the results of which are always unpredictable) immediately before elections," which are scheduled for April 9th. As always, JFNA's Israel office is in close contact with our partners, and is monitoring the situation closely.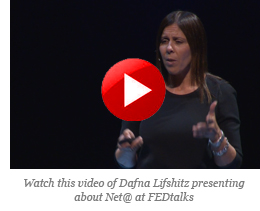 Speaking of Israel, on Wednesday we enjoyed a special visit from Dafna Lifshitz, CEO of Appleseeds Academy, which runs the Net@ program that we support in Kiryat Shmona. Net@ helps teens develop sophisticated skills that help bridge the tech divide. When they graduate from the program, they are more likely to be accepted into an elite unit that wouldn't otherwise have been a possibility for them. That, it turn, tends to lead to better-paying jobs in the private sector, all of which are important aspects of raising the quality of life in areas like our partnership region.
But don't just take it from us. Here's what Net@ graduate, Maor Idan, had to say: "Thanks to the Net@ program, I was accepted into the teleprocessing corps and data communications technician course during my army service and continued as a Commander. Afterwards, I worked as a QA at Melanox, Verint, and Imperva. Today, I work at the start-up I founded which assists with hi-tech career development."
Learn more about how Net@ is leveling the playing field so that young people from disadvantaged areas can reach their full potential in the FEDtalk she delivered at our campaign opening a couple of years ago.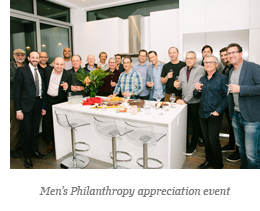 That same evening we were delighted to thank our canvassers and team captains at our first ever Men's Philanthropy appreciation event. The evening was a whisky tasting, and was hosted by Jonathon and Karly Leispic in their beautiful home, and generously sponsored by PearTree Canada. Jonathon, of course, is the chair of the Federation Annual Campaign. Many thanks to our Men's Philanthropy co-chairs, Ken Miller and Michael Averbach, and all the volunteers who make the Annual Campaign a success.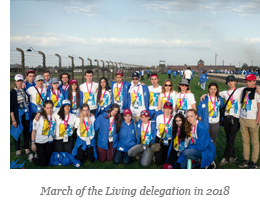 You may recall that last spring we sent our largest ever delegation on March of the Living – a two-week program for high school students that starts with a week in Poland learning about the Holocaust, followed by a week in Israel over Yom Hazikaron and Yom Ha'atzmaut. The program's impact on participants is tremendous, with the teens becoming the next generation of witnesses. Click here to see the impact on local participants.
Charlotte Katzen, chair of the MOL committee, and Karen James, our board chair, met Max Eisen when they were on the program last year. It was announced this week that Max won Canada Reads 2019 for his book, By Chance Alone: A Remarkable True Story of Courage and Survival at Auschwitz.
Karen recalls that there was one young man on MOL whom Max had encouraged to participate. What stood out for Karen was that he wasn't Jewish, he was Sikh. He was on March of the Living to learn more, she said, and that is what Max is all about - educating the younger generation.
Speaking of the younger generation, we want to let you know that our Connect Me Ininitiative has launched a new program in Squamish called Judaism Through the Arts for children six to 11 years old. They'll be exploring Judaism through cooking, activism, music, Israeli dancing, bookmaking, spending time in nature, and much more. If you're in the area, you can register here. If not, we hope you'll share this with someone who is, so that everyone who wants to participate in Jewish community life has as many opportunities as possible – no matter where they live.
Shabbat Shalom,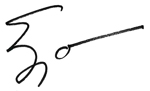 Ezra S. Shanken
CEO, Jewish Federation of Greater Vancouver
P.S. If you're a podcast lover, click here to subscribe to the podcast version of the Shabbat Message using your favourite app.